Caro.net
Address: 900 centerpark drive suite acharlotte
Charlotte NC 28217
United States
Phone:813 293 6991
Fax:N/A
25,000 square feet within 2 facilities.
fire suppression.
Redundant HVAC / air-cooled CRAC units.
closed-circuit motion sensitive video surveillance.
locked co-location cages and cabinets.
On-site engineers 24 x 7 x 365
Power
Generators
Diesel three-phase power backup generators .
UPS
Time Warner
Level 3
AT&T
TelCove
22 Gbps of symmetrical bandwidth.
Core routers: Juniper
Managed services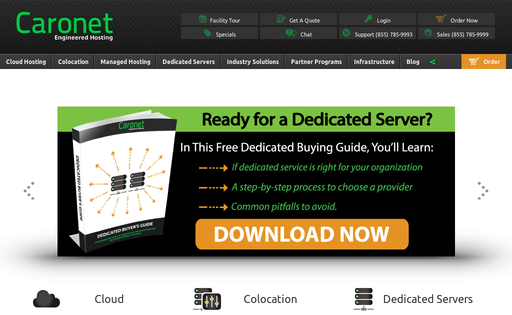 VPS Hosting starting at $29.95/mo
RAM 1 GB Storage 40 GB Bandwidth 10 Mb/s
Dedicated Servers starting at $99.95/mo
RAM 4 GB HD: Raid 1 (2 x 73 GB Hard Drives mirrored) Data Transfer 20 Mb/s
Colocation starting at $54.95/mo
1U w/ 2Mb/s of Bandwidth $54.95/month 2U w/ 2Mb/s of Bandwidth $82.95.95/month 3U w/ 2Mb/s of Bandwidth $109.95/month 4U w/ 2Mb/s of Bandwidth $129.95/month *Burstable to 100Mb/s