cartikahosting.com
Address: 576 Danforth rd
Scarborough M1K1E3
Canada
Phone:416-261-7148
Fax:N/A
Cartika Inc was founded in May of 2000 in Toronto Canada with locations in Dallas, Texas and Toronto Canada. This Cartika Company Info area of our website is meant to centralize information and details about our company, offerings, value adds, legal and much more. We will be continually posting and categorizing information and making it available here for clients. Please check back often.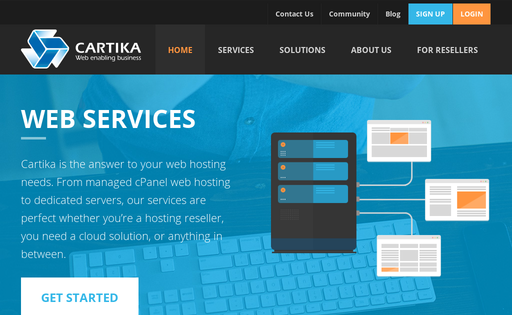 VPS Hosting
At Cartika, our philosophy is that each and every client deserves assistance when they need it. That's why we include "no charge" 24x7x365 support with all IaaS Cloud VPS and Dedicated Servers. An expert is always just a few clicks away. Many providers won't even answer a simple question or log into your Infrastructure unless you have paid for a support plan. We are not like the others!
Dedicated Servers
Our Proactive Management is the #1 reason companies choose Cartika If your business is storing any personal data, our Proactive Management is a requirement to meet your Compliance requirements and protect your business. Never worry about unexpected service problems again with our Proactive Management program. In this model, the Cartika technical team continuously monitors all critical systems and services, notifying you whenever something appears to be out of the ordinary. Whether it's a high resource utilization, full disk partition, or security incident – we will be on top of things at all times.