catalyst2
Address: 79 Chichester Street
Belfast BT1 4JE
United Kingdom
Phone:0800 107 7979
Fax:0845 280 4993
catalyst2 provide VMware based hosting from single sites to dedicated servers, with over 13 years experience in UK hosting.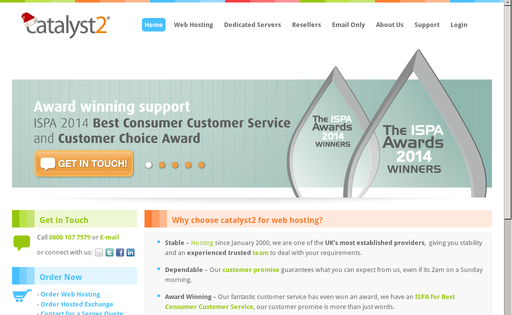 Shared Hosting starting at £1.00/mo
Domains: 1 Disk Space: 0.5 GB Bandwidth: 5 GB Control Panel: Yes Money-back Guarantee: 30 day
Our web hosting packages provide everything you need to get going. You can use a wide array of programming languages to create an online shop/forum/gallery or just stick to plain HTML. Fast, friendly support is standard (see our promise) if you need some advice, why not take a look what our customers think.
Reseller Hosting starting at £25.00/mo
Our reseller accounts are ideal for web designers to offer web hosting to your clients or if you have a few sites of your own to host. With a range of packages and the ability to upgrade and add extra features at any time, you can tailor a package to your needs. We offer Windows and Linux reseller accounts.
VPS Hosting starting at £49.00/mo
Managed Virtual Private Servers – best in class, built on our UK based VMware infrastructure with SSD diskspace. All our VPSs are fully managed and setup individually for each customer allowing them to be completely tailored to your specific application. catalyst2 support is all based in the UK, 24 hours a day, 7 days a week, 365 days a year.