CDDHosting.Com
Address: 616 Corporate Way, Suite 2 #4000,
Valley Cottage NY 10989
United States
Phone:N/A
Fax:N/A
Established in 2010 CDDHosting is an USA based web hosting company that provides reliable, affordable and secure shred, reseller web hosting, master reseller hosting, virtual private servers, dedicated servers, domain names and other internet related services to customers of all sizes, all over the world. Our staff and management has been active in the hosting industry for well over 10 years and know what it takes to ensure each customer gets the best hosting experience possible.
CDDHosting.com offers an array of products and services that meet or exceed those offered by even our largest competitors. But there are two areas where CddHosting.com clearly separates itself from the pack: Value and Service. We at CDDHosting.com take great pride in our commitment to providing our clients with systems and services designed to meet their business needs, not ours. We take our role as Web Presence Providers very seriously.
We believe that in co-operation with our customers we can establish a lasting business tradition and continue to grow into one the large hosting providers on the net. Our goal is to continue offering affordable web hosting solutions while actively participating in the advancement of the Internet as a whole.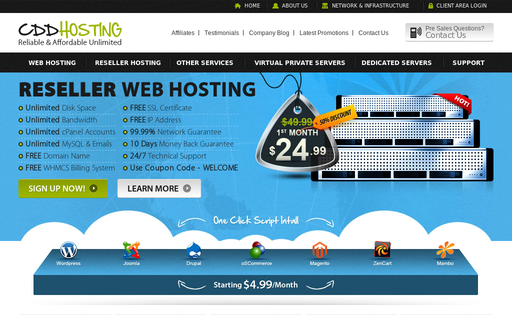 Shared Hosting starting at $4.99/mo
Domains: 1 Disk Space: 5 GB Bandwidth: 50 GB Control Panel: Yes Money-back Guarantee: 30 day
Home About Us Network & Infrastructure Client Area Login Affiliates Testimonials Company Blog Latest Promotions Contact Us Pre Sales Questions?Contact Us WEB HOSTING RESELLER HOSTING Reseller Hosting Master Reseller Hosting Windows Reseller Hosting OTHER SERVICES Domain Names SSL Certificates VIRTUAL PRIVATE SERVERS DEDICATED SERVERS SUPPORT SHARED WEB HOSTING RELIABLE AND POWERFUL HOSTING SOLUTIONS The perfect hosting solution for individuals and businesses No one else gives you so much for so little. Start your Hosting for only $4.99/month. Order today and get 50% Off any hosting plan! Use Coupon Code: FIRSTMONTH We offer a range of reliable, affordable hosting plans to suit any requirement or budget, all accounts are activated INSTANTLY following payment, so you'll be able to get started right away. With CddHosting you get a 2 minute set-up, a beautifully simple interface based on the industry leading cPanel, generous space and a secure, stable, well-supported platform. All from experts who take care of the technical side of things so you can get on with what matters - growing your business.
Reseller Hosting starting at $10.99/mo
Would you like to start your very own web hosting company? Well, with us start your own hosting business for only $10.99/month. Order today and get 50% Off any reseller hosting plan! Use Coupon Code: FIRSTMONTH When you order reseller hosting, you are given access to a control panel called Web Host Manager (WHM for short). This control panel is what you use to create your very own web hosting packages and accounts. Once you create a clients account, this will give them access to their own control panel called cPanel. Once their account is setup, they are able to login and manage their websites, email addresses, passwords, and much more.
VPS Hosting starting at $11.99/mo
Virtual Private Servers deliver performance far beyond shared hosting, plus the flexibility and control of a dedicated server. Use our Virtual Private Servers to host multiple websites, start your own web hosting business or whatever you want. It's your choice!. VPS Hosting is a great fit for businesses expecting rapid growth, heavy website traffic, or who run highly interactive, dynamic websites. CddHhosting partitions a high-performance server into multiple virtual servers, each with a reserved amount of CPU and RAM resources. VPS solutions provide an affordable solution for businesses that need features such as a custom firewall, dedicated mail server or more control over security.
Dedicated Servers starting at $39.00/mo
Our Dedicated Solutions make it easy for you to have full control over your hosting! If you can't find the right server to suit your needs from our server list, contact our sales department and one of our representatives will be happy to help you find the right server for you within your budget! We understand that many of our customers need powerful servers, but do not have a huge budget. Order your unmanaged dedicated server today and be up and running within 24 hours. We are offering low price powerful servers while maitaining quality in hardware, network, and support. Our Dedicated Servers offer you the opportunity to lease an entire service. In contrast to many other services you don't have to share anything with any other customers. The full server capacity will be available and thereby all possible features that our servers may offer are included. You could choose between different series of Dedicated Servers.