CentrioHost LLC
Address: Flat 7 Barbanel House
Cephas Street E1 4JL
United Kingdom
Phone:8801811117455
Fax:88028399009
CentrioHost is an experienced European Web Hosting Company, that provides Customer Satisfaction driven Web Hosting services since 2007.
Our core principles: Be in love what you do. Do it with passion. Do it honestly.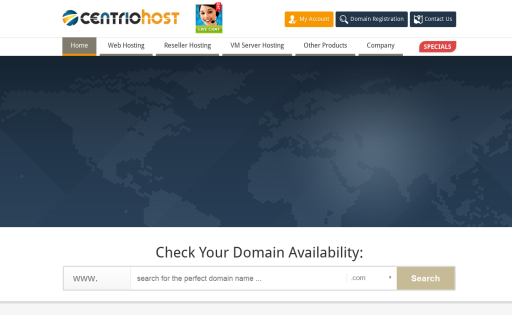 Shared Hosting starting at $1.25/mo
Domains: 1 Disk Space: 5 GB Bandwidth: 100 GB Control Panel: Yes Money-back Guarantee: 30 day
Our servers allows your websites to load faster & handle more traffic, without any changes to your website at all. Faster websites increase search engine rankings, page views, customer satisfaction & conversions. Hosting includes all the basic features like unlimited email, FTP access, Password protected directories, statistics and reports on resources usage. To add more to the package we have RV Site Builder & Softaculous installed in the server which is a set of multiple scripts to have it more dynamic and user friendly. Simply choose the hosting plan and domain you require. Make payment and you can be setup and online in minutes. Join us today and let us provide you with the excellent service you deserve!
Reseller Hosting starting at $5.40/mo
You will be amazed at how easy, inexpensive and profitable it is to start your very own web hosting company! We provide you with all of the tools and support needed to have your business up and running in only a few minutes time. All of our reseller hosting plans will allow you to create unlimited web sites under your own brand name, own nameserver, own WHM Panel, with your own prices, packages and features. The cloud is the latest website hosting technology currently available in the market. With typical virtual private servers (VPS) or dedicated servers, you end up paying much more per month and get far less redundancy and performance than cloud servers. With our cloud reseller service, you have far more performance, redundancy all at a lower cost.
VPS Hosting starting at $29.00/mo
2x CPU Core » Intel / AMD 2 GB RAM + 2 GB vRam 200 GB Raid-10 Storage 1 TB Premium Bandwidth Place an Order $29/mo Free Reboot / OS Setup Request Weekly Offshore Backup Security Shield + Monitoring Root Access Facilities Fully Managed Server 1 IPv4 Address Control Panel: Optional
Dedicated Servers starting at $3.33/mo
At CentrioHost, we understand the importance of a fast loading website. After all, our motto is "Our Speed, Your Success". We back it up! When you buy one of our Dedicated Web Hosting packages, we include our high performance SSDs for free. Choose our blazing fast Dedicated plans for up to up to 20X faster page loads than competing services. Our SSD Hosting servers utilize RAID cards with battery-backed non-volatile caching. This means that in the event of sudden power loss, any data yet to be written will be stored in cache until the server is brought back to normal operation. Inbound data will then be written and stored as if nothing happened. Currently we are offering a *FREE SSL* with TURBO Plan.