Cheapohosting
Address: 65/55 Pratap Nagar
Sanganer
Jaipur 302033
India
Phone:+91 7976232195
Fax:N/A
We're on a mission to constantly innovate new ways to deliver enterprise-level solutions at an affordable price. We want our customers to grow with us, as together we create powerful technology every day.
We endeavor to provide outstanding, swift and devoted hosting services that are backed by our technical experts round the clock. The speed and the expertise of our support team are legendary. They provide onboarding help, free website transfer, and ongoing assistance at any time. No wonder, we consistently achieve nearly 100% customer satisfaction rates.
Cheapohosting is about creating a better and safer web for everybody. Be a part of our growing long list of happy clients today. We will bring Elegant Expertise For You every time you think about our services or products and will help you fulfill all your requirements.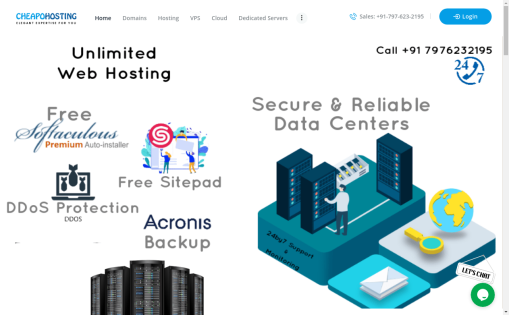 Shared Hosting starting at Rs28.00/mo
Domains: 1 Disk Space: 1 GB Bandwidth: Unlimited Control Panel: Yes Money-back Guarantee: 30 day
1Host Domains 1GBStorage UNLIMITEDBandwidth PLESKControl Panel NoFREE DOMAIN FREESoftaculous FREESitePad ₹9/GB/MonthAcronis Backup 3MySQL Database FREESSL
Reseller Hosting starting at Rs110.00/mo
PLRS 1 ₹110/mo UNLIMITEDHost Domains 10GBStorage UNLIMITEDBandwidth PleskControl Panel FREESoftaculous FREESitePad UNLIMITEDSUB DOMAINS ₹9/GB/MonthAcronis Backup UNLIMITEDMySQL Database FREESSL 1GBRAM 100%CPU 1MB/sInput/output (I/O) UNLIMITEDFTP UNLIMITEDSUB DOMAINS 7.2, 7.1, 7.0, 5.4-5.6PHP Version FREEPHPMYADMIN FREEDNS Editor
VPS Hosting starting at Rs279.00/mo
VPS 1 ₹279/mo 2GBRAM 1vCPU 20GBStorage 400 GBBandwidth SSLFree 1Dedicated IP CWPFree Panel WebuzoFree Panel VirtualMinFree Panel
Dedicated Servers starting at Rs2899.00/mo
Using a dedicated hosting service offers the benefits of high performance, security, email stability, and control. Get started with Cheapohosting and get a hosting plan customized as per your needs.