ClubVPS
Address: pob 32432
hong kong 343242
Hong Kong
Phone:N/A
Fax:N/A
ClubVPS provide reliable, professional, High Availability Cloud Infrastructure with SSD boosted centralized storage Since 1999.
ClubVPS Cloud Services Offers our customer with all the aspects of secured, high performance, and reliable data storage services, at the top of the industry.
All Plans Include a Network Traffic of 1000GB /Month Or 20Mbps Unmetered.
50% off first month using coupon: FIRSTMONTH50-COUPON
ClubVPS Exclusive Cloud Combination:
- SSD Boosted Storage w/ SAS Drives
- Custom Engineered Advanced Control Panel for monitoring, upgrades, reboots and more...
- Hong Kong, Amsterdam, New York and Middle East Facilities
- Fully owned, self-engineered Cloud Platform
- Real 24x7 Round The Clock Support
- Tier-4 Data Centers, 99.999% Infrastructure availability
- N+1 infrastrcture for every component from ground up.
- Each Cloud Server is clear wide open to a 1Gbps uplink burstable up to 10Gbps.
- Hardware Firewall Layer, Load Balancers, Managed Services and much more options …
CDN Friendly Cloud!
Design your own configuration using our Online Configurator Calculator.
Want to test the speed? You can ping or trace the above addresses:
Hong Kong: as.clubvps.com
New York: clubvps.com
Israel: il.clubvps.com
Amsterdam: eu.clubvps.com
Unsure? Need more information?
Reach us out online via LiveChat 24/7
Sign up Now - 14 days Money back Guarantee! – 50% off First Month
or email me directly: erez@ClubVPS.com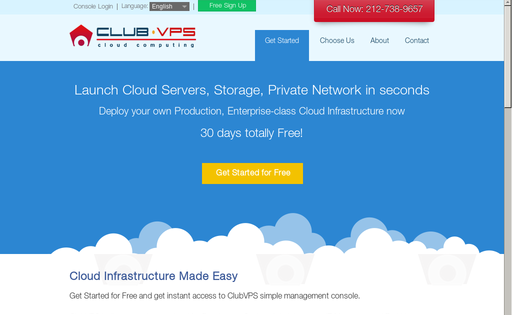 Cloud Hosting
Cloud Infrastructure Made Easy Get Started for Free and get instant access to ClubVPS simple management console. ClubVPS built an easy to use cloud for Developers, System Administrators, IT Managers and End Users powered by high-end servers running Intel Xeon Platinum (Cascade Lake) CPUs, SSD storage, 40Gbit/sec network and more. With a simple pricing model with No hidden fees and no over-use charges you won't expect.