Codexify
Address: Military College of Signals
Rawalpindi 40100
Pakistan
Phone:+923466210002
Fax:N/A
Established in the year 2015 we are a web hosting company working towards one goal, Customer Satisfaction through Quality Web Hosting. A collaborative team of well experienced and energetic staff has been the core of our company who has always worked hard to give you the best. With a 24/7 customer support service, we are here to help you with any issue relating to our service because we treasure your satisfaction.
We offer server class hardware, which is a winning point to us over other web hosting service providers. Also all accounts are provisioned on our multi-core, multi-cpu enterprise class servers. To give you lightening fast speed and stability our plans comes with server class of SAS and Raid 1-10 hard drives and up to 32GB of RAM. All of these at an affordable price, how amazing!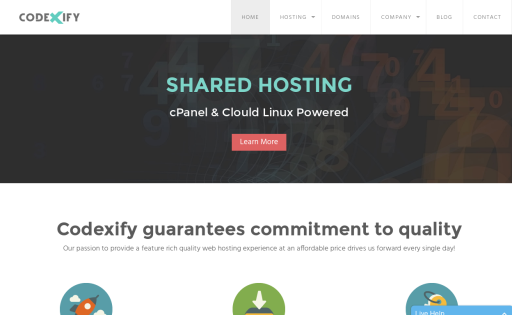 Cloud Hosting
Web Hosting If you need web hosting for your website, we are here to provide you that for a very low cost or even free.