ColoCrossing
Address: 325 Delaware Ave.
Buffalo NY 14202
United States
Phone:1-800-518-9716
Fax:7163358350
ColoCrossing is more than just a best-in-class provider of colocation services, dedicated servers, and a wide variety of managed services and solutions. ColoCrossing is a group of intensely dedicated professionals that understand that deploying and managing IT infrastructure is of paramount importance to the success of your business.
Regardless of what space your organization resides in, we are confidant in our experience and ability to serve you better than any other partner out there. We don't have clients, we have partners. This is incredibly important to us because we value relationships above all else.
We got into this business because we saw a gap in the space. We recognized a need for a provider that was not only capable of understanding your organizational needs, but had the resources to execute a deployment of your infrastructure - not just peg you into a predetermined category. Our partners have a desire for a customized solution, and we're here to help them realize that solution.
When you partner with ColoCrossing, you're not just getting a vendor, you're extending your own IT Department. You're adding valuable resources at a fraction of the cost, as well as a workforce that comprises of experienced, thoughtful IT professionals.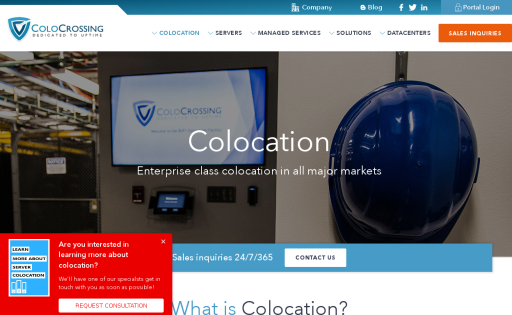 Reseller Hosting
Stay in control Through our API and tools, your customers can control all their infrastructure themselves. That means less work for you if you choose to offer this feature to them. Automation Our technology allows you to automate routine tasks that save you time and increase consistency and quality for end-users. This results in fewer errors and helps keep your customers satisfied. Steady discounts Increase your profit margins without raising prices. The more you work with ColoCrossing, the greater your discounts will be. White Labeling White Labeling allowed and enabled. Feel free to white label any aspect of our service. We support it out of the box.
VPS Hosting
Managed Host All managed hosting packages come with 24/7/365 priority technical service and support. Our team of experienced technicians will be a part of your initial deployment, ensuring our familiarity with your hosting environment - so when time is of the essence, no time is wasted in figuring out how your setup works. Discounted Licensing Take advantage of our discounted licensing when becoming a reseller - adding more profit to your bottom line! When you partner with ColoCrossing, you're ensuring that you receive the best quality network, as well has incredible 24/7 support. Custom Hardware Configurations Don't be placed in a cookie cutter package - take advantage of our ability to custom configure your hardware so that you only pay for what you need. If that need grows, your hardware can grow with you. If it declines, so can your specs. Rent to Own Hardware Take advantage of our rent to own programs, enabling you to spin up new machines at a fraction of the cost of buying them, but still gain equity in that hardware.
Dedicated Servers starting at $59.95/mo
Bronze $ 59.95 /mo CPU Intel Xeon E3-1240 RAM 16 GB Hard Drive 500GB HDD Bandwidth 10 TB Network Ports 1 Gbps
Colocation starting at $59.00/mo
Expert Colocation Solutions in Buffalo, NY ColoCrossing's 13,000 square foot Buffalo data center features network carriers from XO Communications, TeliaSonera, and Hibernia Atlantic and can handle the capacity and redundancy of any type of colocation cabinet or cage space. Our colcoation services include 24/7/365 tech support with remote hands service. Our 100% redundancy means uptime guaranteed. Get More Info to Get More Info about our Buffalo data center.