Meerfarbig KG
Address: Wykhoffweg 50
Emden 26725
Germany
Phone:N/A
Fax:N/A
In compliance with our company's philosophy, we offer you fair prices as well as optimized personal service – because low prices are no use without proper service. For us, support is not an irritant but a valued and appreciated part of our daily work.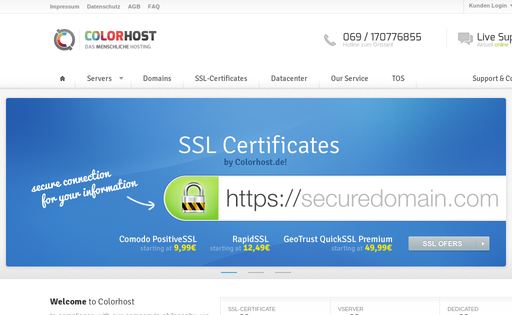 VPS Hosting starting at €4.99/mo
KVM Small Fully virtualized we field our KVM servers! We have the capabilitiy to use specific ISO images or ready-made images fort he installations, under warranted hardware resources. Virtual Servers with Top-Performance ! At KVM SMALL series there are to be found vservers between 512 MB and 2048 MB RAM. If required more, there are our LARGE variations. All Colorhost v server hostsystems run on branded hardware with a 2x 1Gbit connection.