Colosseum Online Inc.
Address: 8-800 Petrolia Road
Toronto M3J 3K4
Canada
Phone:416-739-7873
Fax:416-739-1732
Colosseum offers an array of services designed to more effectively manage IT infrastructures. Our own state-of-the-art data centre environment enables Colosseum to offer your business enterprise-level Colocation and hosted solutions. As the premier provider of Datacentre Colocation, Cloud Hosting, Dedicated Servers and Managed Web Hosting Services in Canada, Colosseum Online is an industry leader that combines a host of comprehensive solutions with unparalleled expertise, cutting-edge technology.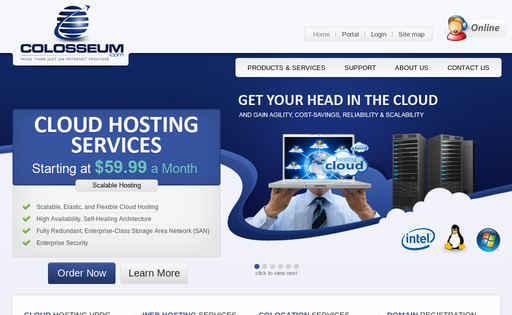 Shared Hosting starting at $15.99/mo
Domains: 1 Disk Space: 1.5 GB Bandwidth: 1000 GB Control Panel: Yes Money-back Guarantee: 30 day
Colosseum's webhosting packages are stored on fast, reliable, secure servers connected to our redundant network infrastructure. If you require a more powerful solution, check out our colocation packages.
Colocation
Colosseum Online Inc. is an industry leader in Internet colocation services. Our advanced network has been custom-engineered to provide high scalability and full redundancy for maximum site performance. Our state-of-the-art data facility is centrally located in Toronto, Canada. Server colocation is designed for companies that have the capability to manage their own servers but need enhanced network capacity and performance to maintain a successful Internet presence. Server colocation eliminates the need to build a private infrastructure, while still providing the best of a highly scalable, direct Internet backbone connection. Why should building a network and managing a data facility be the prime focus of your business? Subcontract your dedicated hosting and colocated equipment to Colosseum Online Inc. and spend more time focusing on expanding and developing your business. Colosseum Online Inc.'s Colo services are designed to help your organization develop its online business rapidly and keep your site operating at peak performance. Developed for businesses of all sizes, Colosseum Online Inc.'s Internet Colocation services help: Reduce costs by outsourcing hosting services Free up corporate bandwidth Concentrate on operations and content, rather than on hosting and connectivity issues You gain fast and reliable access to the Internet for your servers or e-business applications