ComputeHost
Address: SDF Block G-13/14
Noida Special Economic Zone (NSEZ) Phase II,
Noida 201 305
India
Phone:1800-212-2022
Fax:+91-120-6667766
ComputeHost is a leading provider of cloud hosting and web hosting services in India. With a rich experience of more than a decade, we have delivered advanced cloud hosting solutions to leading clients globally across various sectors.
We possess deep domain expertise, an integrated cloud infrastructure, tier III data centers, fully managed services and dedicated technical support to assist our valued clients round the clock. Our hosting solutions are coupled with superior technology and prompt support in order to make your web hosting experiences efficient. Our team of highly skilled technology professionals deliver the best in class hosting services in the market.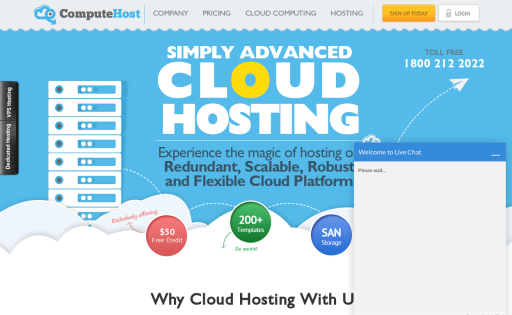 ComputeHost is a Cyfuture Company.
VPS Hosting
Managed VPS Hosting offers you a hassle-free tailor-made hosting solution. Especially when you aren't a tech savvy, this services will take all your worries away by providing you with powerful VPS smartly combined with easy-to-use cPanel. With ComputeHost Managed VPS Hosting, we manage software, hardware, security and network so that you can focus on your core business leaving all hosting worries on us.
Dedicated Servers
Dedicated server based on Linux operating system is usually called as a Linux dedicated server hosting. Dedicated server offers a powerful hosting experience which works on the principle of non-sharing wherein an entire server is made available to cater to the needs of a single customer or Website. That single customer may, however, host multiple Websites of his own or others on rent. The dedicated server only serves the Website(s) hosted on it, and other clients/Website can't share it resources, hence no distortion by other clients in the network.
Cloud Hosting
Private cloud hosting is a cloud infrastructure operated solely for a single organization. In other words, a private cloud hosting is a dedicated environment protected behind the organization's firewall. The entire infrastructure (hardware, storage and network) in a private cloud hosting is dedicated to a single client or organization.