Contabo GmbH
Address: Aschauer Strasse 32 a
Munich 81549
Germany
Phone:+49 89 356471770
Fax:+49 89 21665862
Founded in 2003, Contabo has established itself as one of the premium web hosting companies in Germany. We operate our own two data centers: The ultra-modern "green data center" in Munich was constructed and built by Contabo in 2009 and has enough room for 4,000 servers. The second data center in Nuremberg was brought online in 2014, and it offers space for another 10,000 dedicated servers. Both data centers are state of the art, especially when it comes to operational safety and energy efficiency. Contabo invests large amounts of money in the maintenance and optimization of the entire data center infrastructure every year.
In case you encounter an issue with your Contabo servers or webspace plans, our customer support department is available from 8 am to 11 pm (UTC+1) on 365 days per year, including weekends and public holidays.
Priority and emergency support available!
Please do not hesitate to contact us either by phone (standard landline: +4989 3564717 70) or e-mail at support@contabo.com!
Further information about our data centers and all of our products can be found on our website https://contabo.com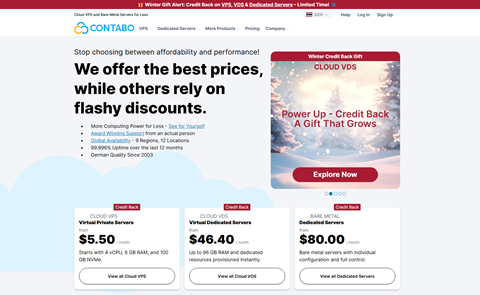 Shared Hosting starting at €3.59/mo
Domains: 1 Disk Space: 50 GB Bandwidth: Unlimited Control Panel: Yes Money-back Guarantee: 30 day
Webspace Package M €2.99 / month €3.59 incl. 20% VAT 50 GB Space 20 MySQL Databases 1 Domain Included .com, .net, .org, .biz, .info, .de 1000 Email Addresses
VPS Hosting starting at €5.99/mo
VPS S SSD 4 vCPU Cores 8 GB RAM 200 GB SSD 200 Mbit/s Port 1 Snapshot 32 TB Traffic (100 Mbit/s) Unlimited Incoming Traffic No Setup Fee €4.99 / month €5.99 incl. 20% VAT
Dedicated Servers starting at €155.99/mo
Powerful Dedicated Servers Intel Dual 10-Core €149.99 13% Off from €129.99 / month €155.99 incl. 20% VAT No Setup Fee 2 x Intel Xeon E5 2630v4 2 x 10 x 2.20 GHz 256 GB REG ECC 1 Gbit/s Port 32 TB Traffic (100 Mbit/s) Up to 324 TB (1Gbit/s)