CooliceHost Ltd.
Address: Paris
Paris
France
Phone:(+44) 797 835 6196
Fax:N/A
CooliceHost is a reliable web hosting, that keeps your website up and running. Featuring 99.9% uptime guarantee and professional 24/7 tech support! The company offers two types of shared hosting plans - SSD and HDD, as well as VPS.

Ultra-Fast Nginx Hosting Services for Your Websites

- Speed Nginx + Varnish Architecture;
- SSD Space;
- 500 Gbps DDOS Protecion;
- Antimalware and Antivirus Scans;
- Web Application Firewall;
- Familiar cPanel Environment;
- Fastest Possible PHP Implementation.

The company also offers VPS Hybrid plans - great solution for those, who want to have their website on shared hosting, but use the power and resources of the VPS plan. You will get LiteSpeed Enterprise Webserver, Varnish Cache as well as DDOS protection on every plan.

Over 90 PHP extensions are available and you can choose one of them at any time, just need to switch to. The hosting gives you different versions of PHP - you will not have any problems with your open source or custom CMS systems.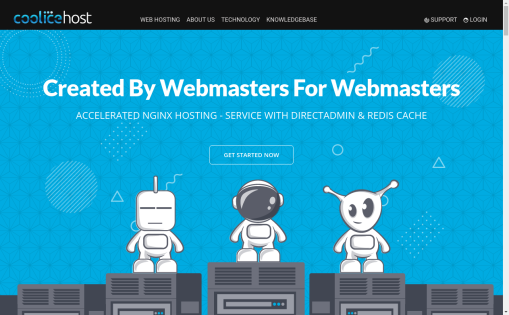 Shared Hosting starting at €2.98/mo
Domains: 1 Disk Space: 15 GB Bandwidth: Unlimited Control Panel: Yes Money-back Guarantee: 30 day
Webmaster Mini €2.98 / month Nginx web hosting for small websites or beginners 15 GB Enterprise NVMe Space 5 Websites Hosted LVE vCPU @ 3.1 - 4.3 Ghz AMD Ryzen™ Virtual Core 2 GB Physical Memory Unlimited Bandwidth Unlimited Email Addresses 50 MySQL Databases 50 Sub Domains 250 000 Inodes DirectAdmin Control Panel Advanced DDoS Protection PHP Version Multiple Hardened Versions Custom Cronjobs NO CGI Web Aplication Firewall Antivirus & Antimalware Scans Backups in Remote Datacenter Free SSL Certificate Apps Installer
Reseller Hosting starting at €11.98/mo
You are running a StartUp and you want a budgeted plan, or just looking for a solution to hold the traffic peaks your websites generate time to time? Stop searching any more. CooliceHost presents you their high-performance Nginx accelerated reseller hosting plans running on, Cloud Linux 7, DirectAdmin , LiteSpeed Technologies API for PHP with Multiple Hardened PHP Versions and Redis Cache, specially designed to efficiently serve both type of websites – low and high trafficked. Nginx reverse proxy is a great alternative to standard Apache only hosing, they gives one of the kind combination of advanced scalable event driven architecture, full page caching & load reducing solution, and simplicity of web server that supports .htaccess. The popularity on Nginx has been gaining in the past few years all because of the many features it provides. Many popular websites use it in order to increase their performance and security. Our technical staff is always ready to help you benefit from our Nginx accelerate DirectAdmin reseller hosting plans, so you can focus only on growing your business, as It should be.
Dedicated Servers starting at €75.00/mo
Dedicated Cloud Infrastructure - Smart Protection For Your Business Virtual Dedicated Server (VDS) is a virtual machine sold as a service by Infrastructure as a Service (IaaS) cloud providers. It has a similar meaning to VPS but the resources are dedicated and guranteed for the customer (CPU cores / RAM / Storage) and can be utilized at 100%, 24/7 during contracted period. CooliceHost gives you the best Virtual Dedicates Server solutions in order to prevent downtime and lag, and to guarantee you stability! We are fully aware of the latest Infrastructure as a Service (IaaS) tendencies and we know how to secure your data. That's why we present this service to you. Our Managed Virtual Dedicated Servers are a great option for people who just need some peace and quite to run their successful online business. After all, it's our job to make sure you stay focused on developing your business.