CoreSpace, Inc.
Address: 7505 John W Carpenter Fwy, Dallas, TX 75247
Dallas TX TX 75247
United States
Phone:N/A
Fax:N/A
IAAS Provider, Public & Private Clouds, , Colocation, Networking, Security, & Servers.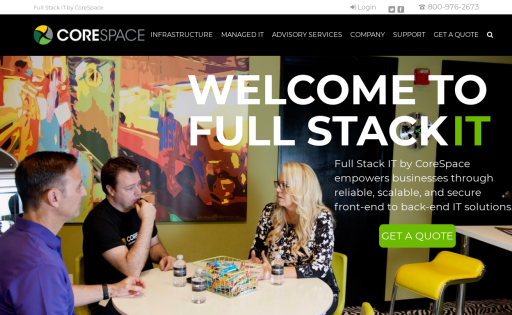 Cloud Hosting
Superior Nextgen Cloud Whether you are looking for the cost-effectiveness of a public cloud or the safety and security of a private cloud, CoreSpace can provide you with a fully customized, managed, modernized cloud using OpenStack, Kubernetes and/or VMware. Tell us your story and we will build a custom cloud solution designed specifically for your business needs. Access any cloud while maintaining the highest level of performance, consistency and security in your user and developer experience.
Colocation
CoreSpace Colocation You still have life left in your existing hardware, yet you'd like to set yourself for a future move to the cloud. At CoreSpace you can deploy and manage your existing infrastructure in our best-in-class data center facilities, while eliminating the hassle and cost of running your own data center. You can also get access to experts who can help address your toughest challenges — such as refactoring applications or guidance on how to maximize the value of your existing hardware.