Sistemas Edenia Internacional, S.A.
Address: Edificio Trifami 501
Avenida 1, Calle 2
San Jose 0006-1000
Costa Rica
Phone:(506) 2256-3944
Fax:(506) 22563739
Providing a Reliable High-Performance Offshore Data Center with redundant optical fiber cables connected to all Internet backbones reaching Costa Rica.
We offer a complete range of Internet services from websites, domain registration, email systems with virus and SPAM control, virtual servers, dedicated servers, and co-location of critical application systems.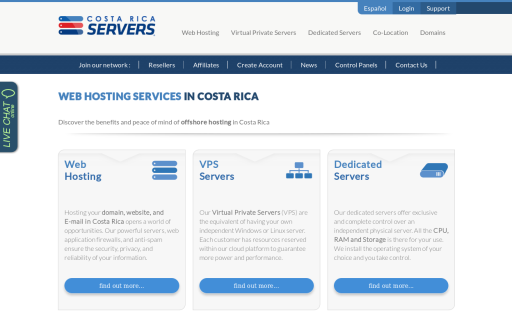 Shared Hosting starting at $9.99/mo
Domains: 1 Disk Space: 1 GB Bandwidth: 20 GB Control Panel: Yes Money-back Guarantee: 30 day
Start-Up Web Hosting Plan This plan is perfect to host your first domain, it will allow you to publish your website or landing page, and get you started with 20 email accounts. Storage : 1Gb Monthly Transfer : 20Gb Email Accounts : 20 Free Domain name* : 1 MySQL Databases : 0 $9.99 Monthly Extended contract discounts: -10% 6 Month contract -20% 12 Month contract * Free Domain with yearly contract (.com .net .org .info)
Reseller Hosting starting at $25.00/mo
Starter Plan Control Panels: 5 Client Domains: 10 Total Storage: 10 GB Transfer: 100 GB Email Accounts : 50
VPS Hosting starting at $7.99/mo
RAM : 1 GB Storage : 15 GB vCPU : 1 core IP's : 1 IPv4 + IPv6 /80 Uplink : 100 Mbps OS : Linux
Dedicated Servers starting at $150.00/mo
BASIC Dedicated Server DUAL-CORE CPU 4GB DDR2 RAM more 120 GB SSD Hard Drive more Intel Motherboard 1 IPv4 Dedicated IP + IPv6 /80 100Mbps Uplink more ORDER YOUR DUAL-CORE SERVER $150 x month NO SETUP FEES Extended contract discounts: -10% 6 Month contract -20% 12 Month contract