Cowabi Ltd
Address: 85 Great Portland Street, First Floor
London W1W 7LT
United Kingdom
Phone:N/A Fax:N/A


WHY CHOOSE COWABI?

First of all because it's free and you risk £0. Then because you get a free web hosting, domain, SSL and good control panel with no ADs. The most important thing it's START: Let's get down to business now, we have work to do.

Why pay more? Cowabi continuous improvement to offer the best quality – price. We've managed to cut costs considerably to bring you the best price.

We know to start a project it's hard and that's why we want to help you with a full year free domain with WordPress web hosting. You can test your idea without haste, step by step.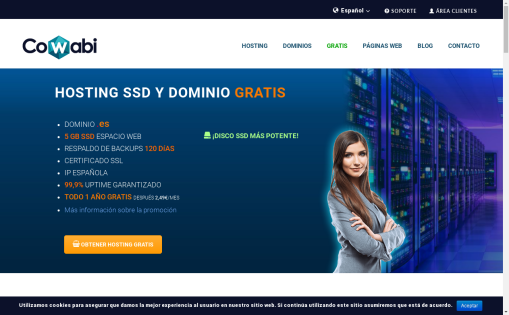 Shared Hosting starting at £2.99/mo
Domains: 1 Disk Space: 5 GB Bandwidth: Unlimited Control Panel: Yes Money-back Guarantee: 30 day
PERSONAL SSD 5 GB SSD WEB STORAGE UNLIMITED TRANSFER 1 DOMAIN .CO.UK FREE 256 MB PHP MEMORY PLESK OBSIDIAN 18 ADDITIONALS IPs AVAILABLE 10 FTP ACCOUNTS PHP 8 99,9% UPTIME 10 MYSQL DATABASES SSL CERTIFICATE CDN CLODUFLARE 90 BACKUP DAYS NODE.JS 10 EXTERNAL DOMAINS £0/YEAR THEN: £2,99/MO
VPS Hosting starting at £8.99/mo
VPS SSD 1 200 GB SSD WEB STORAGE UNLIMITED TRANSFER 1 DOMAIN .CO.UK 8 GB RAM MEMORY 2,8 GHZ PROCESSOR 4 cores (64 BITS) PHP 8 99,9% UPTIME POWER 6/10 SSH ACCESS +8 OPERATING SYSTEMS 460 Gbit/s £8,99/MO £9,99 FEE SETUP