Creative Web Design Qatar
Address: Al Waab Street
Doha
Qatar
Phone:77268733
Fax:N/A
We are leading website design and development company based in Doha, Qatar. Our team have been delivering results of more than 400 web sites since 2001 and our #1 priority is your success; because if you are successful we are successful. We have proficiency on tasks like Responsive Website Design, Web hosting and Domain Registration, Logo Design, Search Engine Optimization etc. We love playing with Bootstrap3, HTML5, CSS3, Joomla, WordPress, Zend Framework and Custom PHP.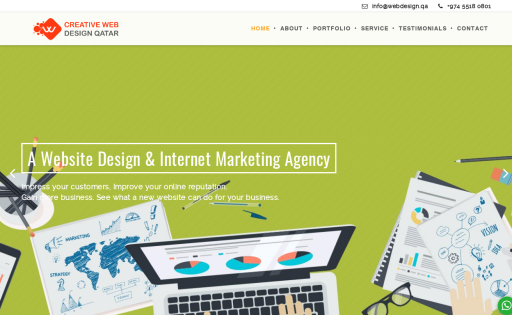 Shared Hosting starting at QR50.00/mo
Domains: 1 Disk Space: 2 GB Bandwidth: 20 GB Control Panel: Yes Money-back Guarantee: 30 day
Web Hosting Service in Qatar Orange Web Hosting is a Certified Qatar Web Hosting Company, selling complete solutions, including unlimited web hosting (server space) and domain names with QA Domain Registration (Qatar country code for Top Level Domain) extension, making us the Best Web Hosting Company in Doha Qatar. We have incredibly affordable web hosting plans for every budget and every need. From 600 QAR yearly plan for single website owner to 1800 QAR unlimited plan for large companies, we have the right solutions for you. Our services are all inclusive which means right from domain registration to Email hosting Solutions in Doha Qatar. We offer Linux and Windows web hosting in Doha and we provide excellent customer support, every time you need it. Our 24/7 customer support takes care of every issue during the work hours and during the off-work hours. Domain Registration is the first logical step towards having your website. Top level domains are few and one should book local country extension. QA for Doha, to get the best exposure locally. We provide local hosting as well, making us the top choice for Doha based businesses. Doha web hosting is also great for getting support in local language for easier resolving of different issues. As the leading Qatar Web Hosting Company, we offer 99.9% guaranteed uptime, unlimited storage, unlimited domain perking, subdomain registration, C-Panel, email accounts, unlimited MySQL database, FTP access, unlimited bandwidth and more. Our servers are virtually impenetrable and your data is always safe with us. There is no throttling of data so you can easily open a video streaming website depending on us.