CtrlS Datacenters Ltd.
Address: 16, Software Units Layout, Madhapur (Hitech-City)
Hyderabad 500081
India
Phone:+91-40-42030583
Fax:+ 91 40 23116055
CtrlS Datacenters was established on 18th October 2007. At CtrlS, we have no priority greater than keeping your applications online and we take that very seriously. Our commitment to take total ownership of the project has resulted in a client portfolio featuring some of the most renowned names in industry as well as the young entrepreneur who's cloud software needs secure, continual hosting.
CtrlS' commitment to its customer is total ownership where it has developed the capabilities to provide platform level services which includes data center infrastructure, storage, backup, hardware, OS layers, network and security layers as depicted in the diagram. CtrlS has developed alliances which cater to the business application layer for automating the customer business processes, thereby developing the capability of providing end to end custom solutions catering to their unique requirements. This initiative of CtrlS has been in line with its corporate policy of being a steward to the IT needs of its customers.
CtrlS is promoted by the 18 year old Pioneer Group which has been building the largest available infrastructure in the DC world, is already into FMS and SI functions. This is but a natural process of amalgamation of Group leadership values. CtrlS assures its client that all such custom solutions will carry the value proposition.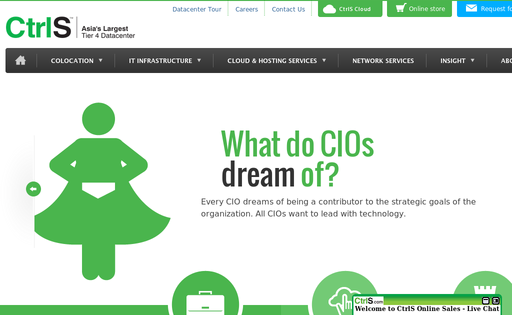 VPS Hosting
The CtrlS Cloud VPS solution offers you the kind of scalability, power, robustness and control that is only possible with the cloud. Whether you are looking for a single server or a robust, load balanced solution, for everything from websites to applications in the cloud, we have the Cloud VPS hosting solution for you and at prices that start much lower than you thought possible.
Dedicated Servers
When companies need complete control over their dedicated server provider, from the kind of hardware that their host server runs on to fine grained choice of the OS and application stack, they turn to CtrlS. We are the innovator in Cloud services in India, with the distinction of building Asia's first Rated 4 Datacenter and India's largest Rated 4 Datacenter and now we offer the best Dedicated Hosting service in India. If your company wants all the benefits of in-house servers with absolutely no investment in hardware, power, cooling and management, we have the solution. With deployment time in weeks instead of months, all the power and cooling your hosting solution needs with all the connectivity that your company could ever want, CtrlS is the dedicated server provider of choice.
Colocation
Why Rack Space Colocation Services? What Rack Space Colocation Services brings to your business is wings; it frees up your valuable resources giving your IT the freedom to focus on business critical functions rather than getting bogged down with the constant deployment, maintenance and scaling required in managing physical devices. Housing and protecting your mission critical applications and systems need not be a dead weight on your business. Infinitely reduce the operational and capital expenses involved in maintaining all these systems by 'renting' the reliable and adept services of a Rack Space Colocation data center. You have an array of options to choose from when it comes to Rack Space server hosting. You can pick the Rack Space that suits your needs.