Cut Above Host
Address: 273 Applewood Center Place PMB 373
Seneca SC 29678
United States
Phone:864-280-9181
Fax:N/A
The company has been around since 1999
We provide rock solid support and servers.
Our servers are never oversold that is why we have been in business so long, and don't have the problems other hosting companies do.
We do hosting the way it should be done so that we are happy and you're happy.
We provide Shared Hosting, Reseller Hosting, Cloud Servers, and Dedicated Servers.
Use the code HT50 and save 50% off your first 3 months of Shared Hosting or Reseller Hosting.
Our Shared Hosting/Reseller Hosting servers are based in New York.
We have over 20 locations around the world for Cloud Servers/VPS with over 100+ server images to choose from.
All Reseller/Cloud Server customers get a FREE domain reseller account.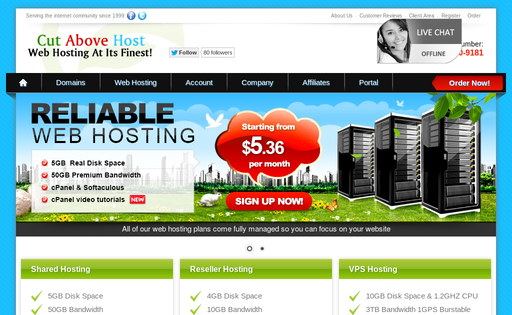 Shared Hosting starting at $5.95/mo
Domains: 1 Disk Space: 5 GB Bandwidth: 50 GB Control Panel: Yes Money-back Guarantee: 30 day
View our premium quality web hosting plans below. All of our web hosting plans come with cPanel, the leading hosting control panel allowing easy editing and full control of your website. Preinstalled scripts included with our web hosting plans make life much easier by allowing you to install any popular application/software without any prior web hosting knowledge. Whether you want to start a website, blog, forum or online store our 1 click script installer has you covered. Turbo1 Perfect shared hosting plan for beginners Web Space 5GB Bandwidth 50GB Monthly Price $5.95