CWCS
Address: Portland Street
Beeston
Nottingham NG9 2LP
United Kingdom
Phone:+44 870 703 1000
Fax:+44 7050 642 731
CWCS delivers premium quality managed hosting, dedicated server and cloud hosting services. We provide a helpful, friendly and professional service and focus on delivering fast, reliable and secure business solutions.
CWCS focuses on delivering the very best hosting solutions, set up to meet each customer's needs. We tailor our dedicated server and cloud solutions to the precise specification we think our clients businesses require. What's more, we back this up with high quality support from experienced specialists, and what's probably some of the best hosting company customer service in the UK.
CWCS has data centres and data centre facilities in the UK, the US and Canada and offers 100% uptime guarantees with 24/7/365 support.
For more information please get in touch!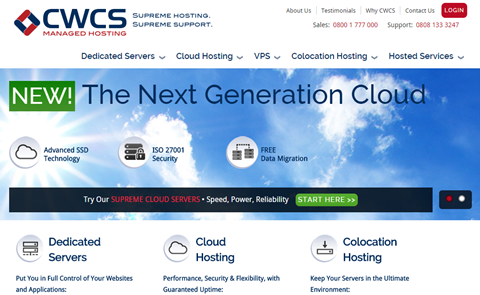 Shared Hosting starting at £2.99/mo
Domains: 1 Disk Space: 10 GB Bandwidth: 60 GB Control Panel: Yes Money-back Guarantee: 30 day
1) Simply click the link below and provide us with your contact details. 2) We will call you back within two business hours and ask you some basic questions about your business, and your hosting needs. 3) Using that information, we will send you an easy-to-understand proposal and give you a call-back to go through it with you. 4) When you order, your web hosting plan will be live within minutes.
Reseller Hosting starting at £24.99/mo
Linux Reseller 1 £24.99 per month Web Space Unlimited Domains 20 Sub-Domains Unlimited Data Transfer / Month 10GB per domain Setup Fee Free
VPS Hosting starting at £19.99/mo
VPS-L1-LINGreat Value VPS Plan £19.99 per month vCPU 2 vCPU Memory 1 GB SSD RAID Storage 25 GB Data Transfer / Month Unlimited
Dedicated Servers starting at £69.00/mo
DS-4000 Intel Xeon Quad Core 4 Cores / 4 Threads 8GB RAM 16GB RAM RAID Storage 2 x 250GB SSD or 2 x 1TB SATA Unlimited Bandwidth From £69 Per Month
Cloud Hosting starting at £36.00/mo
CS-2000 2 vCPUs 2GB RAM 50GB SSD Storage Unlimited Data Transfer Up to 1GB/s Connection From £36 Per Month