Cyber Wurx, LLC
Address: 55 Marietta Street
Suite 1600
Atlanta GA 30303
United States
Phone:404-681-9888
Fax:N/A
A leader in the web hosting and colocation industry, serving businesses and individuals alike since 1997. With our unparalleled service, speed and reliability your online presence will thrive.
We stand by our original commitment to focus on our customer service and maintain the highest level of support for our clients. At Cyber Wurx, we believe this unique approach to business relationships is what defines us as a company.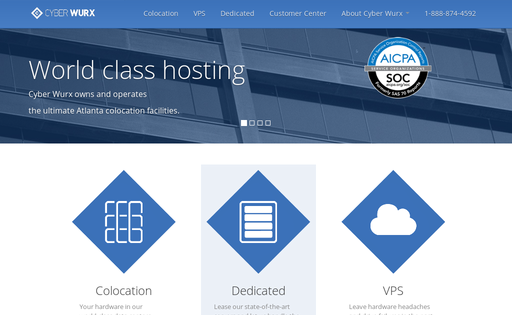 Dedicated Servers starting at $249.00/mo
XEON Intel(R) Xeon(TM) E3 Series CPU(Quadcore) 2TB 2TB SATA hard drive 16GB 16GB ECC system memory (RAM) 10TB 10TB of multi-peered tier1 BGP bandwidth OS Hardened and Optimized Debian Linux 8IPs 8 unique IP addresses
Colocation
Atlanta Colocation Host your hardware in our 24/7 fully staffed, world-class tier 3 data center. Full UPS power with generator backup and a redundant multi-homed BGP network. Our facility is centrally located in downtown Atlanta with cross connect access to all major providers in 55 and 56 Marietta St. telco hotels. We welcome all ranges of business from 2U to private cages.