Cybersite
Address: 140 Paya Lebar Road #08-02 AZ @ Paya Lebar, Singapore 409015
Paya Lebar 409015
Singapore
Phone:+65-67272276
Fax:N/A
About Us
Cybersite is the wholly owned subsidiary of Exabytes Group of Companies. Through Exabytes, Cybersite has grown to become a one-stop service provider offering the most comprehensive Cloud hosting and communications service that is second to none. As an authorised partner of Microsoft and Alibaba, we bring you a much wider direct access to business and productivity-related cloud applications that is accompanied by our world class service support.
As a group, we provide essential communications tools, information technology (IT) and business solutions to meet the growing needs of businesses today. We keep businesses connected every step of the way with our enterprise class of Voice, Data Connectivity, High Speed Internet Services, as well as Hosting and Cloud Solutions.Established in 1998, Cybersite have managed to build a strong foothold in the Cloud services arena within Singapore, with customers in Asia and all around the world. As an accredited domain Registrar and we offer a range of Cloud services covering everything from Infrastructure-as-a-Service (IaaS), Platform-as-a-Service (PaaS) and Software-as-a-Service (SaaS).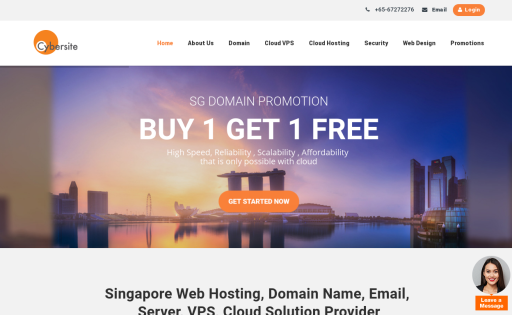 Shared Hosting starting at S$13.99/mo
Domains: 1 Disk Space: 10 GB Bandwidth: 100 000 v/mo Control Panel: Yes Money-back Guarantee: 30 day
Free Lifetime .COM Domain 1 domain 10 GB Disk Space 100,000 Monthly Visits 10 Email Accounts Unlimited Data Transfer Linux OS Website SSL Certificate Website Security Features Website Backup
VPS Hosting starting at S$149.00/mo
160GB SSD Disk Space SSD Storage in your VPS 12GB RAM 12 vCPU Unmetered Data Transfer CentOS / Ubuntu OS Plesk (Unlimited domain) SpamExpert Website Security Features Server Backup Server Monitoring Updates & Patching
Dedicated Servers
High Resources And Powerful Infrastructure Customize your server plan for yourself based on your requirement!