Data102, LLC
Address: 102 S Tejon
Suite 220
Colorado Springs CO 80903
United States
Phone:719-387-0000
Fax:N/A
Southern Colorado's premiere colocation provider. We offer colocation starting at 2U up to multiple 42U cabinets with 48V, 110V, 208V single and three phase power (PDUs included). We are an SSAE16 type II certified datacenter and are interested in hosting your servers in our datacenter that boasts 99.9999% uptime. We offer premium blended bandwidth consisting of Level3, TW Telecom, Cogent, and Hurricane Electric, with direct peering to Google, Netflix, Apple, 1 Willshire in LA and 910 15th St in Denver. We offer managed firewalls, backups, VoIP, VPS services and have a knowledgeable staff should you need any consultation. Give us a call and come in for a tour, we'd love to meet you! We're 60 miles south of Denver in Colorado Springs, Colorado, USA.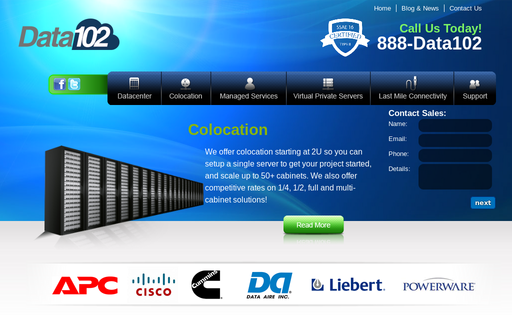 Shared Hosting starting at $9.95/mo
Domains: Unlimited Disk Space: Unlimited Bandwidth: Unlimited Control Panel: Yes Money-back Guarantee: 30 day
10x 100% Uptime Guarantee One-Click App Installer Unlimited Disk Space cPanel Web Hosting Control Panel Unlimited Bandwidth Website Statistics Free Website Transfer Service Weekly Backups Super Fast Hosting!
VPS Hosting starting at $15.95/mo
Starting RAM 384MB Starting Disk 10GB SSD Bandwidth 5TB Backups Weekly Your Choice of Many Distributions OnApp KVM Virtualization HTML5 Web Console
Colocation starting at $99.00/mo
Reliable Colocation, You've Found It. From small and medium sized businesses to enterprise level corporations, our colocation solutions are suited to meet your unique business needs. High performance bandwidth along with multiple layers of infrastructure redundancy provide a strong foundation for your critical infrastructure's success . We want to make your move to Data102 an easy one, so we offer several extra services completely free of charge, such as design, migration planning, and even helping you relocate your equipment. Let us help you before and after you choose Data102 as your colocation provider.