Address:
207 Regent Street
London W1B 3HH
United Kingdom
Phone:+442035142399 Fax:N/A

It started with an idea…

… to bring bandwidth-hungry applications closer to their end users. We knew the demand for reliable dedicated server providers exceeds the supply. Having years of experience in similar industries ourselves, we were sure we can do better than the big players.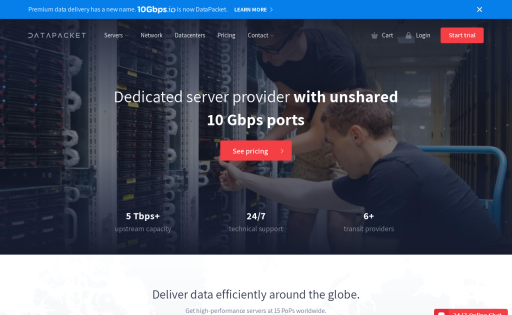 DataPacket - dedicated server provider specialises in latest technology hardware solutions and premium data delivery for bandwidth intensive businesses. All of our servers are fitted with high end components and unshared ports with at least 10Gbps capacity. We guarantee full bandwidth connectivity with no port aggregation.

Our network is spread across 20 datacenters in the US, Europe and Asia with upstream capacity 14Tbps+. In order to deliver your data in the most efficient manner, we use 10+ transit providers and have dozens of private interconnections worldwide. The traffic flowing through our network is monitored real time for optimal path selection.

An excellent customer care is of our utmost interest. Whatever your needs, we are here to build tailored solutions to fit every aspect of your business. Our technical support is available 24/7 via phone, email, online chat or Slack.
Average response time is 50 seconds.
Dedicated Servers starting at €160.00/mo
Our 60 Tbps+ network currently spans 32 data centers globally. Be it in Europe, Asia, the Americas, or even Oceania, we always guarantee efficient data delivery. Peering with local ISPs in each of our locations minimizes the distance your data has to travel. This ensures a flawless end‑user experience and leaves very little room for network errors.
Colocation starting at €160.00/mo
Private European backbone Our European locations are interconnected by multiple 100GE private backbone circuits, allowing us to provide carrier‑level network performance in terms of latency, packet loss, and routing quality.