DATATAN.NET
Address: 65/6 Moo 2, Bangbud
Bankhai 21120
Thailand
Phone:+66871438365
Fax:+66871438365
Professional reliable web hosting in Thailand. Fast professional website hosting services. We started with our qualified services of Web Hosting and Domain Name Registration for website makers with the main goal to provide quick and effective services to customers with our slogan "Service from the Heart, Understand All Website Makers". Because we have been experiencing in website making and web hosting service users for many years so that we do understand and know the needs of web hosting users very well. So, web hosting services we provide to customers are high quality so that no need to worry about disconnecting of website and we listen to all comments of service users.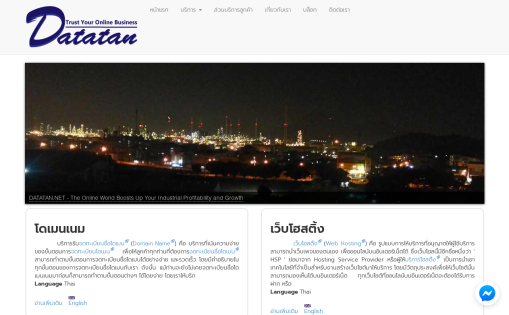 Shared Hosting starting at ฿50.00/mo
Domains: 1 Disk Space: 8 GB Bandwidth: Unlimited Control Panel: Yes Money-back Guarantee: 30 day
Linux Web Hosting (Single Domain) Linux Web Hosting (Single Domain) Top 7 plans that customers have always chosen. Because we designed the most suitable for your needs. Both beginners and experts in website construction Apply for the DTT05 plan or more. Register free .com .net .org domain, amount 1 name.
VPS Hosting starting at ฿900.00/mo
The service of Virtual Private Server or VPS is a virtual server service that has ability to work as an actual server. It is a division of the resources of the actual server with high performance into separate parts as an independent server which has a virtual private server working on virtual machine. It is suitable for those who want to use a private server that is stable in operations, but have no time to maintain the server or not ready to set a server by themselves. We will take care of hardware and all major systems. You will get the highest root privilege to access the virtual server.
Dedicated Servers starting at ฿3500.00/mo
Server or Dedicated Server is for people or organizations who do not want to buy server. But I want to have a server for personal use. By the way, we will supply the server and hardware care for our customers. Ready to connect to the Internet through high-speed network to be available. Customers can bring software and data into the server. Without investing, purchasing, servicing, or clients, it will be used. Web server Email server File server Or other systems. We can also consult. Introduce the right applications and install the system to the customer.
Colocation starting at ฿2500.00/mo
Co-Location is a form of computer data center. Many users can bring private servers to work and connect to high-speed Internet service providers. To open the service. They need to be accessible from all over the world, such as a Web server, Mail server, File server And other systems. To use the ability to access and service over the Internet 24 hours a day by using the Co-location service, the server will need to lease space to host servers and charge monthly. You can also manage, modify, or otherwise perform server and system tasks. Under the excellent environment and excellent security system of the Data Center.