CPG Ventures LLC
Address: 535 Scherers Ct.,
Columbus OH 43085
United States
Phone:(800) 775 6950
Fax:N/A
Tier-III & Tier-IV locations
Our goals are clearly defined! We want to deliver the best service to our customers while keeping the costs for our customers as low as possible.
Through the combination of Tier III & Tier IV data center facilities, the ability to offer our customers multiple 10 Gig pipes at each location and only providing the best hardware possible, we can truly offer a 99.9% uptime – guaranteed.
But it is not only the hardware that makes DedicatedSolutions.com a preferred home for dedicated servers, it is also the humans behind it. Our staff constantly strives to serve you with the best possible support. All our facilities have 24×7 staffing – whether it be network technicians, system administrators or support members.
We have set the bar high for us, but this is what we love and with our team of experts and professionals we are able to make it happen.
The mission for our future is to expand into as many countries as possible with our own operated data centers. This will ensure that our customers can have servers located nearly in every spot in the world – interconnected with each other on fast connections.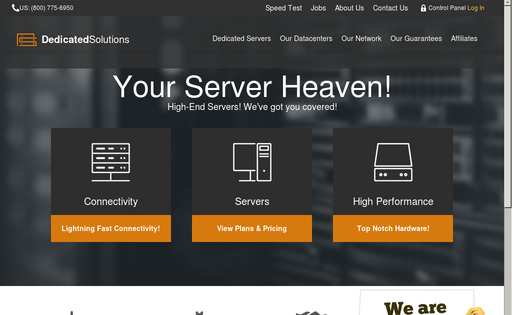 Dedicated Servers starting at $39.00/mo
Server: 822B DELL/HP Intel Xeon 4/8 Core 4x 2.20GHz 1x 250GB HDD NoRaid 8GB RAM OH, Columbus TIER-IV 1Gbps
Colocation
If you have your own equipment and just need a safe place to connect it, look no further! We have space available ranging from 1U to full racks. We will provide you with reliable, redundant power and connect you with our enterprise level network using a premium carrier blend.