Dedicatedhosting4u.com
Address: 530 W. 6th St. Ste. 502 Los Angeles, California 90017
530 W. 6th St. Ste. 502 Los Angeles, California 90017
Los Angeles CA 90017
United States
Phone:7734556676
Fax:7734556676
Get your dedicated hosting server from Deaicatedhosting4u.com Dedicated Servers with No Setup Fee, No Contracts, No UAP, Additional IP Available, 100% Uptime Guarantee, 24*7 Customer Support, Enterprise Hardware, Free 6 Hours Express Delivery, Free 32 GB RAM Upgrade with all dedicated Server plans available now and get a secure and stable platform for your business. We supply with the quality hardware along with high level of customer support. your best choice for a dedicated server.
Dedicatedhosting4u.com is a well established name for solutions on self managed dedicated servers and managed hosting services. We are immensely indulged in providing solutions on the deployment of online business for various clients since a decade.
Our Facilities
18,000 square foot state of the art data center in the heart of Downtown Los Angeles, California directly connected to One Wilshire. Combine that, with our connection to multiply internet carriers along with sophisticated optimized routing, that gives you pure awesomeness.
24/7/365 Security and Technical Staff, bio-metric controls as well as over 22 Cameras assures perimeter security.UPS Systems including Backup Generators, under strict maintenance vendors results in up to a 100% Uptime Promise.(SLA)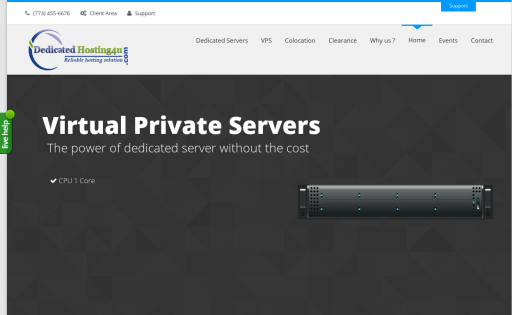 Dedicated Servers starting at $69.00/mo
8 CORE - (2) Quad Core Intel Xeon 2.26GHz (L5520) 2.26GHz / Total 8 Cores 24GB DDR3 ECC RAM 1 TB SATA2 or 120 GB SSD HDD 100 MBPS Unmetered Bandwidth Additional IP Available No Long Term Contract Very Friendly Support Staff 24*7 Support Free Express Delivery
Cloud Hosting starting at $9.95/mo
LC #1 (Linux cloud ) - vePortal - (SCRANTON, PA) - CPU: 1.5GHZ, RAM: 1GB, DISKSPACE: 25GB, BANDWIDTH: 1000GB/MONTH
Colocation starting at $79.95/mo
Single Server Co-Location Service - (SCRANTON, PA) - ONE (1) SERVER (1U/2U)