Deerstone Development
Address: 16519 Mesa point Dr
Houston TX 77095
United States
Phone:707-800-9742
Fax:N/A
WE BELIEVE FAITH + GRATITUDE + ACTION = SUCCESS!
Welcome to Deerstone Development, a place for creative individuals to consciously visualize how they will represent their own business or brand on the web. If you are wondering where to buy domain names you have come to the right place. We also offer website hosting, security, CDN services, SSL Certificates and email accounts. Our team of professionals can help setup and manage your website content and blog as well.
We are confident in our abilities to create a beautiful SEO ready website to bring a positive impact for your business on the web. We will walk you through the process of buying a domain name for the first time as well as help set up your SSL certificate to ensure your customers can trust your E-commerce website. Our team is here to help you set up the best hosting plan for your business website goals.
10% of all proceeds go directly to people affected by the California wildfires.
If you already have a website and choose to have a professional SEO analysis – that is our expertise! Here are the first 5 steps of how Deerstone Development will help your website.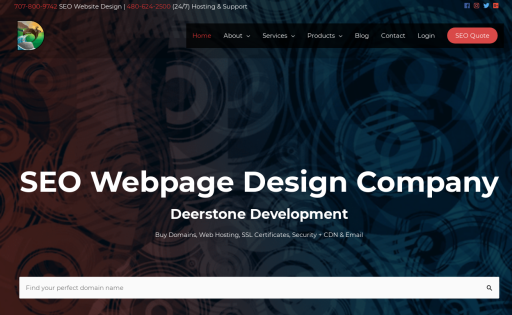 Shared Hosting starting at $2.83/mo
Domains: 1 Disk Space: 30 GB Bandwidth: Unlimited Control Panel: Yes Money-back Guarantee: 30 day
cPanel Hosting that's easy, reliable and lightning-fast. 1 website 30 GB storage Unmetered bandwidth* *We don't limit the amount of storage and bandwidth your site can use as long as it complies with our Hosting Agreement. Should your website bandwidth or storage usage present a risk to the stability, performance or uptime of our servers, we will notify you via email and you may be required to upgrade, or we may restrict the resources your website is using. It's very rare that a website violates our Hosting Agreement and is typically only seen in sites that use hosting for file sharing or storage.
VPS Hosting starting at $7.99/mo
1 CPU Core 1 GB RAM 20 GB SSD Storage Linux only, no control panel* *If you're running a high-resource intensive Windows OS or control panel, we strongly recommend a minimum of 2 GB of RAM. (The 1 GB plan will result in deficient server performance.)
Dedicated Servers starting at $169.99/mo
Intel Xeon-D 2123IT 4C/8T – 3.0 GHz Turbo 32 GB DDR4 RAM 2 x 4 TB HDD Storage (RAID-1) *Disk space includes operating system files, which can be close to 24 GB on a Windows server. Please take that into consideration when choosing a server size that best fits your needs. **SSL certificate is included for free as part of your dedicated server product. If you cancel the dedicated server product, you will lose the associated SSL certificate as well.