Deutschehost GmbH
Address: Oberbilker Allee 55
Dusseldorf 40223
Germany
Phone:+49(0)1777839656
Fax:N/A
Deutschehost provides Internet services network infrastructure and support. The main goal of Deutschehost is to offer the most stable web hosting service with wide range of opportunities in Germany and Europe.
We provide the following services:
• Web hosting services
• Placing and renting servers
• The services of domain registration
• Transfer functions for telecommunications companies (outsourcing)
• Services for individuals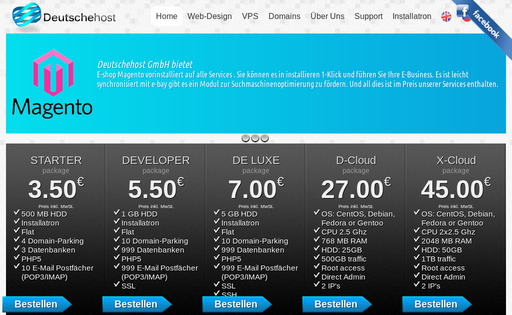 Shared Hosting starting at €3.50/mo
Domains: 1 Disk Space: 0.5 GB Bandwidth: Unlimited Control Panel: Yes Money-back Guarantee: 30 day
3.50€ Preis pro Monat ohne. MwSt. 500 MB HDD Installatron Flat 4 Domain-Parking 3 Datenbanken PHP7 10 E-Mail Postfächer (POP3/IMAP)
VPS Hosting
Home Web-Design VPS Domains Über Uns Support Installatron Der virtuelle private Server – mehr als ein Kostensenker Die derzeit optimale, flexible und zugängliche Lösung für die Anordnung der Web- und Business-Anwendungen ist der virtuelle private Server (VPS). Er ist im Vergleich zum eigenen Server viel preiswerter, da die Ressourcen eines physischen Servers von mehreren Teilnehmern unabhängig voneinander genutzt werden. Technisch ist der VPS ein Teil des physischen Servers, mit dem bereits vorinstalliertem Betriebssystem, welches vom Kunden eigenständig und unbeschränkt kontrolliert oder gesteuert werden kann. Sicherungskopien werden von VD Deutsche WebDienst. UG automatisch aktiviert. Auf dem virtuellen Server, können Sie beliebige zusätzlichen Bibliotheken und Anwendungen für das OS/Betriebssystem, Programmiersprachen und den Game-Server installieren. Sie können VPS verwenden, um ihre eigenen Dienste oder Cloud-Dateien zu speichern, gemeinsame Daten zu nutzen und um diese auszutauschen. Virtual Dedicated Server hat keine Einschränkungen hinsichtlich der Anzahl auf ihm plazierten Webseiten, Datenbanken, Domain-Zonen, SSH / FTP / E-Mail-Nutzer. In dieser Hinsicht, ist VPS vorteilhafter gegenüber dem virtuellen (shared) Hosting.