Digissofts Technologies
Address: Vidyanagar
Sira
Sira 572137
India
Phone:08135-276937
Fax:N/A
Digissofts Technologies is dedicated to adding value to our clients' businesses through the use of technology. DIGISSOFTS TECHNOLOGIES is a web hosting & web Development Company in Bangalore.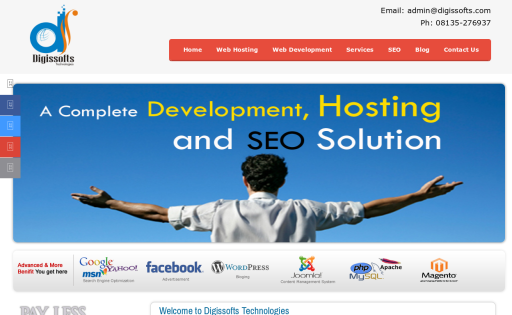 Shared Hosting starting at Rs99.00/mo
Domains: 1 Disk Space: 1 GB Bandwidth: Unlimited Control Panel: Yes Money-back Guarantee: 30 day
Digissofts Technologies Pvt Ltd is one of the best hosting service provider in Bangalore, India. Our plans have no limits: Not on the amount of domains you can host, not on the bandwidth, and not on the diskspace. Because everyone uses their shared hosting account differently. Web Hosting is the physical location of your website where all the data associated with your website resides. Besides your website host also provides space for your e-mails linked to your domain name. We provide professional hosting services along with e-mail space.