Digital Days Inc
Address: 5524 Saint-Patrick, Suite 350
Montreal H4E 1A8
Canada
Phone:1-877-934-4678
Fax:514-934-3636
Digital Days offers a wide range of shared hosting solutions that meet the outsourcing needs of small & medium size businesses. Digital Days will help you find the right level of sophistication for your business at a price you can afford! Aggressively priced solutions for your web presence starting at $9.95 CDN or $6.95 USD.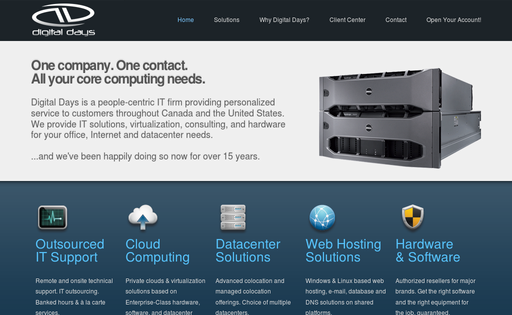 Cloud Hosting
All the benefits of the Cloud, cost efficiently tailored to your needs. Cost-effectively transform aging on-prem infrastructure into dedicated, secure, flexible, and scalable architecture with Digital Days Private Cloud solutions. Leverage the same technology that our private equity clients use to instantly provision and augment new investments, allowing them to cost effectively transform acquisitions into high-performing, fully redundant, compliant environments even while still supporting legacy applications.
Colocation starting at $75.00/mo
Experts in Colocation Offering colocation services in both Montreal and Toronto, Digital Days has 20 years of datacenter experience ensuring that your high-capacity, high-availability project is a success.