Dimedia KD
Address: Licanska
Kozarka Dubica 79240
Bosnia and Herzegovina
Phone:N/A
Fax:N/A
Affordable and Reliable web hosting. We offer 14 day money back guarantee and a 24/7 support!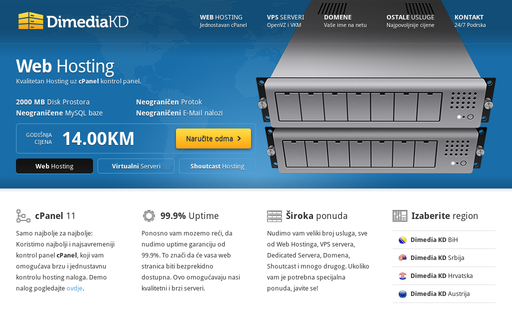 Shared Hosting starting at KM2.50/mo
Domains: 1 Disk Space: 10 GB Bandwidth: Unlimited Control Panel: Yes Money-back Guarantee: 30 day
Instant Instant Aktivacija Hosting naloga nakon uspješne narudžbe. Backup Sigrunost vaših podataka nam je važna. Zato nudimo dnevni Backup svih naloga. Let's Encrypt Besplatan SSL certifikat za zelenu traku u Google Chrome. Migracija Besplatna i brza migracija vaše postojeće web stranice na naše servere.