DHH.si d.o.o.
Address: Pod hribom 55
Ljubljana 1000
Slovenia
Phone:+386 1 77 77 888
Fax:N/A
We are the largest provider in the region, with 200.000+ registered domains and 90.000+ happy customers. Our reliable support team is available to you every day from 8 am to 8 pm.
We offer:
*DOMAIN REGISTRATION* choose from more than 600 domain names.
*SHARED AND RESELLER HOSTING*
- Everything you site needs: free SSLs, SSD disks, cPanel, and much more.
- 60 days money-back guarantee!
- Free website transfer! Select a package and we will transfer your website and e-mail accounts to our servers for free!
- Upgrades that are always possible: are you afraid your hosting package will become too small in time? That is not a problem when you sites are hosted with us. Just upgrade your package.
- Control all services at one place: With the help of the user panel, an overview of all of your services, pro forma invoices and invoices will be at your disposal at any time.
*VPS* hosting for start-ups and experts. No risk: we offer 60 days money-back guarantee!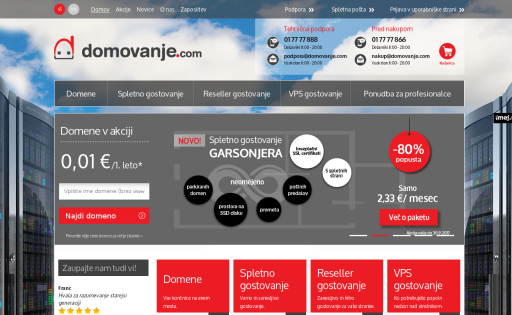 Shared Hosting starting at €1.25/mo
Domains: 1 Disk Space: Unlimited Bandwidth: Unlimited Control Panel: Yes Money-back Guarantee: 30 day
1,25 € na mesec* za 1 spletno stran Litespeed tehnologija (za doplačilo) neomejeno prostora na hitrih SSD diskih neomejeno prometa neomejeno število e-poštnih predalov 500 MB neomejeno MySQL baz brezplačni SSL certifikati 1 zmogljivost paketa: kupon za 60 € na Google Ads
Reseller Hosting starting at €3.32/mo
Izbrani paket: 10 GB 5 cPanel računov Že od 3,32 € na mesec! V paketu lahko gostujete (primer): 5 uporabnikov z 2 GB prostora Že od 0,66 € na uporabnika na mesec!
VPS Hosting starting at €2.62/mo
LXC VPS gostovanje Iščete predvsem stroškovno učinkovito rešitev? Potrebujete lasten prostor, lasten operacijski sistem in popolno svobodo pri delu s strežnikom? Imate veliko znanja o strežniški administraciji ali pa imate v timu nekoga, ki obvlada delo s strežniki? Potrebujete predvsem veliko manevrskega prostora, da boste hitri, prilagodljivi in v trenutku odzivni na dogajanje. LXC VPS paket po meri je pravi za vas!