Dotsilicon Limited
Address: Room: 26/1C, Level: 3, Farmview Super Market, Farmgate
Dhaka 1215
Bangladesh
Phone:+8801617222444, +8801730051106
Fax:N/A
Dotsilicon Limited is a creative web development company providing world class dynamic web design & web based software solutions including Online Newspaper System, eCommerce Solution, Digital Certificate, Corporate Email, Web Hosting and Domain Name Registration.
We are popular for our attractive design concepts. We use different technique and viewpoint to design a website. Our developed websites are super dynamic. It's easy to customize - all it takes is just a few clicks. Whether you're inserting images, changing the text or customizing colors and designs - everything happens online, you don't need to download any software and no programming knowledge is necessary. You can customize your website with your own content anytime from anywhere.
Security and Data Protection is the most important part of a website. We have cutting-edge RAID Hardware to protect all data on the server against hard disk failures. Also we have special software for 24/7 days server monitoring to prevent unauthorized access. Always we use latest technologies and updated techniques to develop and host a website.
We work in the Virtual to serve the Real; We are Different, Welcome to Future…™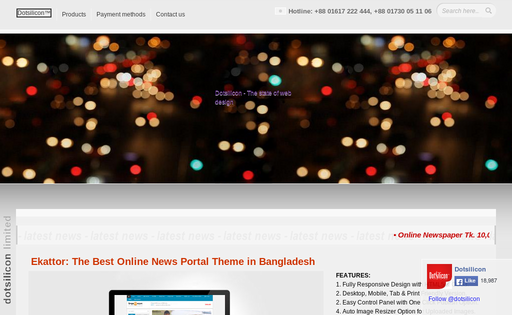 Shared Hosting
Dual 2.40GHz Xeon Processor 24GB RAM 24x7x365 Support 250GB RAID 1 OS Drive 1TB Cached Customer Drive Apache 2.2x PHP 5.3x, 5.4x, Perl, Python Free DNS Management MySQL 5 Ruby On Rails Anti Spam & Virus Protection Secure FTP Access Hotlink & Leech Protection phpMyAdmin Access Online eMail Address Book Advance Spam/Virus Protection
Dedicated Servers
Dedicated Server Datacenter: Austin, Texas, USA VIEW ALL TECH SPECS Supermicro Blade Servers Instant Server Provisioning Full Root Access Sys-Ad Support Teams 1 GB/s Network Ports Server Management Panel Database Services ClamAV Protection cPanel @ BDT 1,700.00 Dedicated IPs @ BDT 500.00 Mail Services Core Support Web OS Patches & Updates DNS Support Services cPanel Installation Troubleshooting & Repairs WHMCS Installation Zend Optimizer SAN Storage @ BDT 1,500.00/50GB WHMCS @ BDT 600.00