DWS Web Hosting
Address: 13 Craigleith 7 Kersfield Road Putney
London SW15 3HN
United Kingdom
Phone:+44-20-3695-1294
Fax:N/A
At DWS Web Hosting, we've made a hosting platform that is both packed with features and easy to make use of. Our devs have created a unique Linux cloud web hosting platform plus an innovative Web Site Control Panel that effectively employs its capabilities. After long hours of programming and bug removing on our end, we are today capable to guarantee that all of our hosting services are secure, virus-proof, packed with capabilities and simple-to-work-with. What's more, they feature 99.9% server uptime plus 99.9% network uptime guarantees.
A Unique Cloud Hosting Platform
Making an absolutely new web hosting platform from the ground up is often an intricate undertaking. The good news is, we have some terrific web developers doing work for us and by result of their assistance, we developed our fantastic cloud hosting platform.
Our cloud hosting platform was created to work in a hardware/software setting configured by us. This in turn helped us to develop an even more steady platform, which is thoroughly virus–free. For that reason, we can easily guarantee you a 99.9% uptime warranty with all our cloud hosting plans.
Customer Support
Last, but not least, we've constantly aimed to work as a people–centric enterprise. Since the first day we started, we've kept a 24/7 support team on standby. And from day one, our help support team is providing a one–hour reply time guarantee. Our average reply period is below 20 min.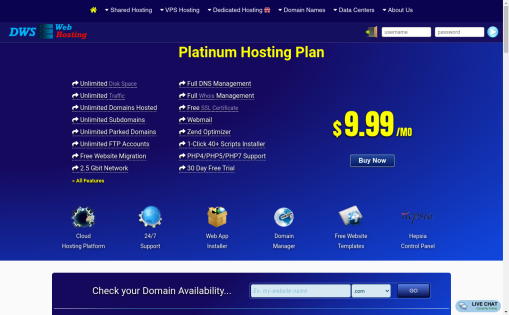 Shared Hosting starting at $3.25/mo
Domains: 1 Disk Space: Unlimited Bandwidth: Unlimited Control Panel: Yes Money-back Guarantee: 30 day
Bronze Kickstart your small portfolio site, family photo gallery or private blog site with only a click of your mouse with this simple web hosting plan. Get yourself a free domain name and a large selection of attributes for your web site. 99.9% server uptime combined with 30–day money–back guarantees are offered too. Bronze Package Unlimited Disk Space Unlimited Monthly Traffic 1 Hosted Domain(s) Unlimited Subdomains 100 E-mail Accounts 5 MySQL Databases 5 GB VPN Traffic
VPS Hosting starting at $12.00/mo
OpenVZ VPS Web Hosting Services Full root access, guaranteed CPU quotas and SSD storage with all OpenVZ Virtual Private Servers. Our company offers a group of web accelerators to enhance the loading speeds of your web sites, integrated in our completely free web hosting Control Panel. You can easily choose data center location and also your server's Operating System. We offer a couple of 100% server backups every week. 24/7 support. Zero setup costs. Virtua-1 Package 30 GB Disk Space 1000 GB Monthly Traffic 1024 MB RAM 1 CPU Core(s) 1 IP Addresses Unlimited Hosted Domains CentOS/Debian/Ubuntu
Dedicated Servers starting at $20.00/mo
Unlimited Disk Space Unlimited Monthly Traffic Unlimited Hosted Domain(s) 1 CPU Core(s) Unlimited MySQL Storage Unlimited E-mail Accounts Unlimited MySQL Databases 5 PgSQL Databases Unlimited FTP Accounts 1 IP Address