Cloud Computing Service Providers in India
Address: Awfis, A-24/9, First Floor, Mohan Co-operative Industrial Estate, Mathura Road, Saidabad, New Delhi -110044
New Delhi 110044
India
Phone:01130018095
Fax:N/A
E2E Networks is an Indian cloud computing provider helping startups & SME businesses in India to increase performance and reduce their existing cloud spend. At E2E Networks, we built our own cloud infrastructure and developed our own Technology Stacks, making our cloud services most affordable in the market.
Our team consists of professionals with years of experience & domain knowledge in managing & implementing services on a cloud computing platform.
Get in touch with our experts for a free consultation @ 011-3001-8095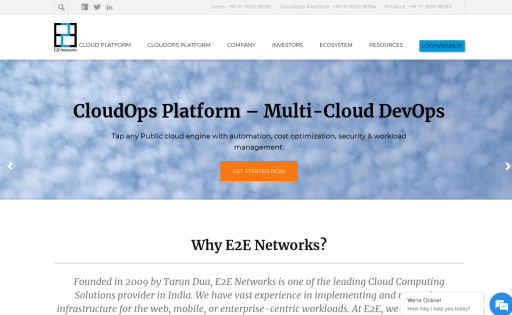 Cloud Hosting
Use Ubuntu LTS/CentOS/OpenSUSE on the C2 Series Compute Nodes for your Linux Server workloads. Linux Distributions have pre-configured security settings, networking and open source server software like webservers, database software. C2 series has an excellent price-performance ratio. Never encounter noisy neighborhood issues due to better CPU contention ratio. Each VCPU HT core has a base frequency of 2.9 Ghz or higher. This allows you to have higher performance and lower latency.