EasyDCH
Address: 5447 Haines Road N
Suite 101
Saint Petersburg FL 33714
United States
Phone:N/A
Fax:N/A
EasyDCH.com offers Cloud Hosting as a flexible hosting platform that matches performance with demand. If your site's traffic spikes, Cloud Hosting responds by allocating more resources and keeping your site live.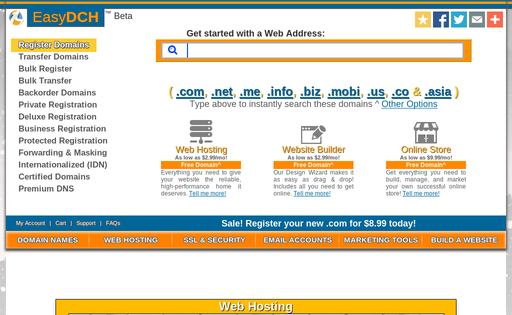 Shared Hosting starting at $2.99/mo
Domains: 1 Disk Space: 30 GB Bandwidth: Unlimited Control Panel: Yes Money-back Guarantee: 30 day
cPanel Hosting that's easy, reliable and lightning-fast. 1 website 30 GB storage Unmetered bandwidth* *We don't limit the amount of storage and bandwidth your site can use as long as it complies with our Hosting Agreement. Should your website bandwidth or storage usage present a risk to the stability, performance or uptime of our servers, we will notify you via email and you may be required to upgrade, or we may restrict the resources your website is using. It's very rare that a website violates our Hosting Agreement and is typically only seen in sites that use hosting for file sharing or storage.