AiQui Information & Techonology (爱启信息科技)
Address: 560 Zhangyang Road (Pudong)
1401B
Shanghai
China
Phone:(+86) 21 5081 4388
Fax:+86 21 508 13335
Ecritel Asia is a managed cloud hosting provider, specialized in dedicated hosting for ecommerce websites and applications. We also offer performance optimization, website acceleration and consulting with the aim to increase your sales on internet.
Established in 2008, Ecritel Asia aims to promote and support foreign company in their business expansion in China. Our scope of activity extends from shared, virtual and dedicated hosting to facilities management, complex Internet platform setup and platform risk management.
Leveraging on our long experience in the industry, we have built a true expertise from both our ability to help clients achieve successfully their projects in Asia, and the quality of our services with the latest technology and a "high class" infrastructure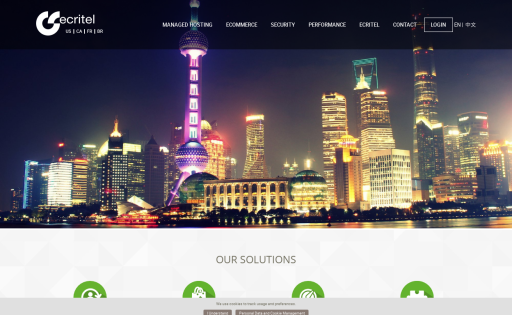 Dedicated Servers
critel offers a fully managed environment to host your dedicated IT infrastructure, that provides the flexibility you need to meet your evolving business challenges and needs. Outsource your infrastructure while retaining full control of your information systems. Our data centers are located in Shanghai and Hong Kong, and the whole infrastructure is managed by our team. Operating in China since 2008, with our office located in Shanghai, you can expect experienced collaborators to help you set up or develop your business in the Chinese market.