EndLayer, LLC
Address: 301 Edgewater Place
Suite 100
Wakefield MA 01880
United States
Phone:1-855-363-5293
Fax:N/A
EndLayer is a high-performance website hosting and IT solutions provider. We design fully-managed cloud hosting environments that scale with the changing requirements of your business. We're the future of managed hosting. The next generation of IT solutions. And the gold standard of support, service and technology. When other hosting companies are sleeping, we're working. When you need us, we're here.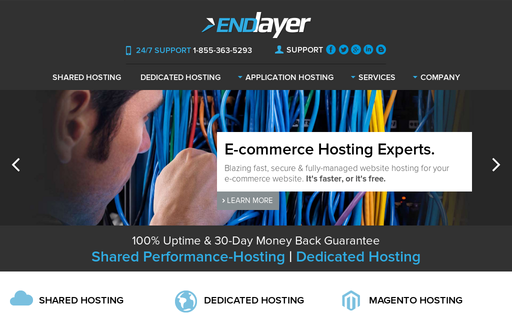 Cloud Hosting starting at $35.00/mo
Soft Metal Cloud Mini
Colocation starting at $125.00/mo
Fully Managed Boston, MA Colocation Have the want or need to use your own hardware? No problem! Our secure, highly redundant, performance-optimized infrastructure will make the perfect home for your servers. They'll have a ton of server friends to hang out with, get access to all the tier-1 bandwidth they can eat and enjoy a carefully regulated 70 degrees year-round. That's some good server livin' right there. Just like our own bare metal servers, your colocated server will get the full white-glove treatment with our Server Management services: OS updates, patches, 24/7 support, NOC monitoring and more.