Enlightened Technology Group, Inc.
Address: 2901 Dallas Parkway
Suite 345
Plano TX 75093
United States
Phone:972.403.8825
Fax:972.403.3456
Enlightened Technology's hosting Solutions platform is located in a ISO27001-accredited data center that provides 24/7 physical security, fully redundant uninterruptible power supplies with on-site generators, and multiple diverse internet connections of up to 1Gbps.
We provide Advanced Hosting Solutions including Microsoft Exchange, SharePoint Foundation, ASP.NET Web hosting, Dynamics CRM, Office Communications Server, and Dedicated Virtual Private Servers.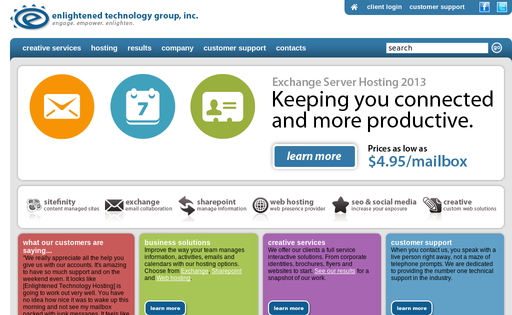 Shared Hosting starting at $14.95/mo
Domains: 1 Disk Space: 0.50 GB Bandwidth: 50 GB Control Panel: Yes Money-back Guarantee: 30 day
500MB of Storage (additional storage available) Bandwidth for data transfer 50GB FTP Support ASP & ASP.NET support PHP, Perl/CGI Scripts supported MySQL supported Web Stats Available SQL Server * Available Dedicated IP address * Available SSL Certificate *
VPS Hosting starting at $59.95/mo
Windows Server 2008 R2 1GB RAM * 1 CPU * 40GB Disk space *