Eon.Host
Address: Genuezka 5
Odessa 65009
Ukraine
Phone:N/A
Fax:N/A
Eon.Host offers you Professional, Affordable and Quality Web Hosting.
The business is run from Ukraine (by non-Ukrainian management), and was launched in Summer 2016. Eon.Host is a new business, but do not let that fool you, as we have some 15 years of experience in the web hosting business.
Since we mainly aim for a European client base, the fact that the business is located in Ukraine, means that clients from the EU do not need to pay VAT, which is a big plus in our opinion.
Our servers are located in a top class data center in France.
We pride ourselves with our client friendly approach and are eager to help you wherever possible.
We currently provide fully managed Virtual Private Servers (VPS) and Dedicated Servers for individuals, organisations and businesses. You can also purchase domain names and SSL certificates directly from us.
Join Eon.Host today, have the peace of mind that we will take care of your server, while you take your online business to the next level. If you have any questions, feel free to contact us.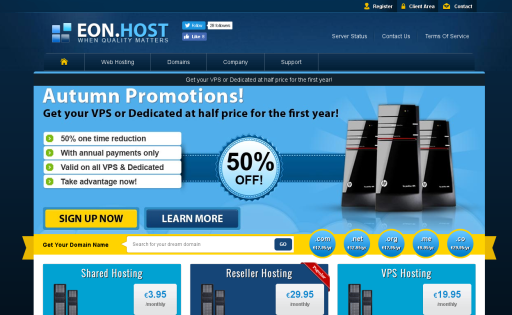 Shared Hosting starting at €2.95/mo
Domains: 1 Disk Space: 3 GB Bandwidth: Unlimited Control Panel: Yes Money-back Guarantee: 30 day
Perfect shared hosting plan for beginners 3GB Unlimited
Reseller Hosting starting at €9.95/mo
Perfect reseller hosting plan for beginners 15 GB Unlimited €9.95 Unlimited
VPS Hosting starting at €7.95/mo
Perfect VPS hosting plan for beginners 20 GB Disk Space 2048 MB RAM 1 vCore Unlimited Bandwidth Fully Managed
Dedicated Servers starting at €49.00/mo
Perfect dedicated server plan for beginners Intel Core i5-750 (4c / 4t) 2.67 GHz 16 GB RAM 2 TB Storage Unlimited Bandwidth @100 Mbps