ePotentia
Address: 12312 Eldon Dr
Largo FL 7274980500
United States
Phone:+1 (866) 710 4678
Fax:N/A
ePotentia, previously LotD Hosting is a company started in 2004, slowly growing into what we are today.
Our goal is to provide a quality service to small companies wishing to expand into the online world and new e-commerce websites. Our service is not limited to this audience though. Everyone is welcome and everyone can enjoy the stability of our service and the ease of our sitebuilder, our preinstalled applications and our cross-platform capabilities.
The ePotentia servers are located in a clustered undersold environment. This means that our servers are interlinked and in this way balances out the traffic your website receives keeping everything fast and stable for everyone. This way even if there would be an issue with a server, the other servers can take over it's tasks providing an uninterrupted service.
The fact that the servers are undersold means that unlike many companies today we do not sell more resources than we own. Other companies do this under the assumption that their users will not use up their full quota. This is a dangerous assumption as this way one person can consume everyone's resources.
We will also gladly give you advice and we have a software package and various resources available to help you get started.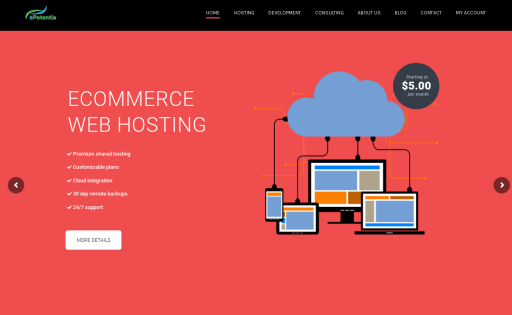 Shared Hosting starting at $5.00/mo
Domains: 1 Disk Space: 2 GB Bandwidth: 10 GB Control Panel: Yes Money-back Guarantee: 30 day
2 GB Disk Space 10 GB Bandwidth cPanel PHP/MySQL Sitebuilder Unlimited Databases Unlimited Domains Unlimited FTP Accounts Unlimited Email Accounts Daily Off-Site Backups Customizable Reseller 2 Months Free