ESDS - Data Center
Address: Plot No. B- 24 & 25
NICE Industrial Area
Satpur MIDC 422 007
India
Phone:+91 (253) 6615651-52
Fax:N/A
ESDS - Data Center is a Fully Managed Tier III Data Center Facility based in India and is equipped with hi-tech equipments and technology including the state-of-the-art infrastructure, advanced power efficient cooling systems, redundant power supply and much more.
ESDS - Data Center Services are fully Managed by 24x7 On-Site NOC Engineers to ensure our customer's services are always up and running and there is no interruption at any point of time. Our Network is powered by Cisco who are know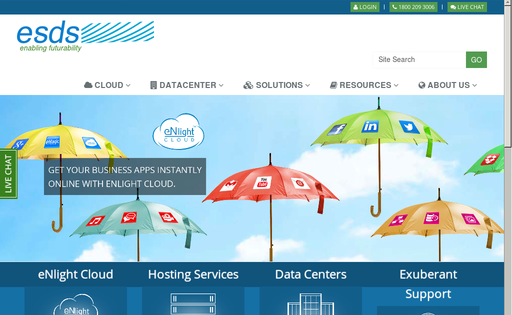 Cloud Hosting
Organizations of all sizes are embracing transformation of their processes and applications on eNlight Cloud. Termed as Elastic, Sizeable and Secure, eNlight Cloud offers a computing environment that includes intelligent scaling for resource provisioning and a revolutionary Billing model that helps businesses save enormous costs. Pay-Per-Consumption billing allows businesses to pay only for the IT resources consumed against the allocated through a Smart Resource Predictor tool. Built on multiple layers of security, eNlight Cloud delivers enterprise-grade security services for a safer and highly reliable Cloud environment. Through an intuitive and a web-based control panel, users are able to efficiently manage their Cloud and monitor Virtual Machines (VMs) which enables smooth business operations.