Eskimo North, inc.
Address: P.O. Box 55816
Shoreline 0 98155-0816
United States
Phone:(206) 812-0051
Fax:(206) 812-0054
Eskimo North provides Linux Friendly Platform Independent
Internet Access and Hosting including ssh shell accounts.
Our web hosting is provided with current versions of Apache and CentOS Linux. A unique aspect of our offering is that we provide a full remote desktop with audio on a variety of different Linux platforms including CentOS, Scientific Linux, Debian, Ubuntu, and Mint with a variety of different windows managers. We provide a full suite of program development, web development, scientific, and office applications. We've been in business longer than the Internet has existed, starting as a BBS in 1982, a multi-line Unix timeshare service in 1985, and an Internet Service Provider in 1992, still under original ownership. You won't find telephone trees and script readers here, live knowledgeable human help instead. We provide the most flexible e-mail anywhere with shell mailers, web mailers, pop-3 and imap and all forms of encryption. Your secured home on the net!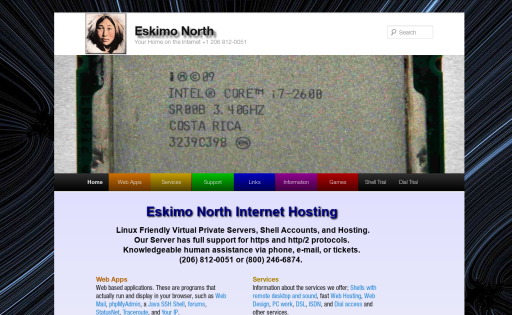 Shared Hosting
Free Speech We do not de-platform for political wrong think. You are allowed to say what you want as long as it is legal in the United States. Speed We have a highly customized platform including a database based on a special kind of flash memory that supports atomic writes. Our platform will usually load a WordPress website in between 200-300ms, compare that to other hosting sites and I think you'll find the best of our competitors is still 2-3x slower. Please test our site against any of our competitors using Pingdom or other speed testing tools.