EstNOC OÜ
Address: Pärnumaa
86811
Estonia
Phone:N/A
Fax:N/A
EstNOC OY offers hosting and datacentre services in Estonia, Sweden, Russia, Romania, Netherlands, Norway and Switzerland. Here you can find some of our packages we offer. For all the offer, please take a look at our homepage.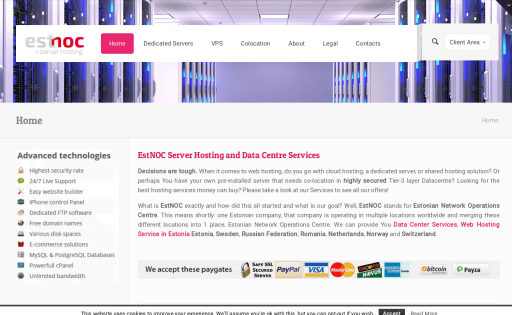 VPS Hosting
Only certified and secure data centres! Available in more than 30 locations worldwide KVM Virtualization - one of the best platforms Build to grow with you and your clients. Servers provisioned instantly after the payment *
Dedicated Servers
We include in our network ONLY the best tier 1 ISP's depending on location,such as CenturyLink (Level3), Cogent, NTT, Telia, PCCW Global, China Telecom, China Unicom, Korea Telecom and many more. In most of our locations we are also peering with local or regional Internet Exchanges (IX's) such as NL-IX, DE-CIX, PHopenIX, NETNOD, TLLiX, HK-iX, FL-IX and many more.
Colocation
We fullfill all server orders at latest in 3 days after successful payment, usually same day. Hardware supported: Our HP blade servers are installed in to HP blade centre chassis c7000 with maximum of 16 blades in it,or c3000 with maximum of 8 blades in it. These blade centres are very effective on energy saving and performance as they have everything multi-redundant. There are 10 fans and 6 power suppliers per each chassis. In case there 5 fans and 4 PSU's stop working, the chassis with all the blades in it, will continue working without downtime. Every component attached to bladecentre chassis, is Hot-Swappable. We use in all them blades only the best hardware components – Samsung or Kingston SSD's, memories from Viking,Kingston etc, Westers Digital or HGST harddisks, Intel XEON 4 or 6 core processors. All our servers come with Hardware Raid options for FREE! Possible to add BBU on top of it, for only €5!