ETS Domains
Address: ras al khaima, UAE
ras al khaima 00000
United Arab Emirates
Phone:(480) 624-2500
Fax:N/A
ETS Domains is the All-in-one Service Providers for Websites and e-Commerce Platforms. Providing Domain, Websites, web hosting, SSL & other online marketing tools at Cheap rates. Contact @(480) 624-2500 for 24/7 technical support & sales.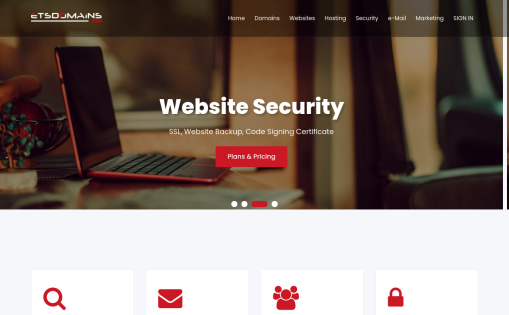 Shared Hosting starting at $1.49/mo
Domains: 1 Disk Space: 30 GB Bandwidth: Unlimited Control Panel: Yes Money-back Guarantee: 30 day
cPanel Hosting that's easy, reliable and lightning-fast. 1 website 30 GB storage Unmetered bandwidth* *We don't limit the amount of storage and bandwidth your site can use as long as it complies with our Hosting Agreement. Should your website bandwidth or storage usage present a risk to the stability, performance or uptime of our servers, we will notify you via email and you may be required to upgrade, or we may restrict the resources your website is using. It's very rare that a website violates our Hosting Agreement and is typically only seen in sites that use hosting for file sharing or storage.
VPS Hosting starting at $8.51/mo
Self Managed VPS 1 vCPU 1 GB RAM 1 CPU Core 1 GB RAM 20 GB SSD Storage Linux only, no control panel* *If you're running a high-resource intensive Windows OS or control panel, we strongly recommend a minimum of 2 GB of RAM. (The 1 GB plan will result in deficient server performance.)
Dedicated Servers starting at $135.99/mo
Self Managed Dedicated Server 4 Core / 32 GB HDD Intel Xeon-D 2123IT 4C/8T – 3.0 GHz Turbo 32 GB DDR4 RAM 2 x 4 TB HDD Storage (RAID-1) *Disk space includes operating system files, which can be close to 24 GB on a Windows server. Please take that into consideration when choosing a server size that best fits your needs. **SSL certificate is included for free as part of your dedicated server product. If you cancel the dedicated server product, you will lose the associated SSL certificate as well.