Padovani s.r.o.
Address: Basty 415/6
Brno 60200
Czech Republic
Phone:+420776054017
Fax:N/A
While our competitor are focused only on price, Eurhosting is focused in providing the better experience according to your need.

From running a personal blog, till creating an entire infrastructure, Eurohosting care about your need creating and suggesting the best option to match your expectation.

Created by a strong IT background professional, Eurhosting has created a full escalable process to grant anytime the perfect delivery of your services.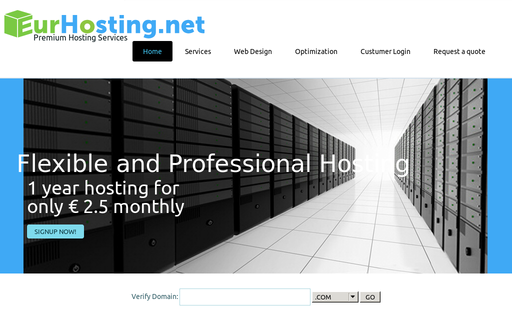 Shared Hosting starting at €1.99/mo
Domains: 1 Disk Space: 15 GB Bandwidth: Unlimited Control Panel: Yes Money-back Guarantee: 30 day
Dominio Gratuito (primo anno) 15 GB Spazio web 5 Caselle mail 1 FTP 1 DB Traferimento dati illimitato Softaculous No domini aggiuntivi No domini in parcheggio
VPS Hosting starting at €8.33/mo
CPU condivisa 1.8Ghz 1 GB Ram garantita 100 GB SSD Pannello di controllo domini illimitati Ubuntu Stabile 2 IP Banda illimitata (100mbps link) Setup in 2 giorni lavorativi massimo.
Dedicated Servers starting at €71.00/mo
Intel® Core™ i5 4570 Haswell 4 x 3,6 GHz Turbo 16 GB DDR3 RAM 2 x 2 TB SATA3 HDD Control Panel unlimited domains Stable Ubuntu 2 IP Unlimited data gigabit link Setup in 2-5 working days