Eurobia LTD
Address: Aramex House Old Bath Road Colnbrook, Ist 5480
Berkshire SL3 0NS
United Kingdom
Phone:+447400205367
Fax:+44 702 4031 086
Lifetime Hosting, One Time Payment Hosting !
Eurobia LTD Company No.10095836 an Official company in Wales and the UK.
Eurobia is a was founded on three core principals: Quality, Affordability, and Dependability. We strive every day to reach our potential to provide extraordinary web hosting services – services that no other company can claim. We are a team of truly dedicated, knowledgeable individuals that have been involved in the web hosting industry for years. We're here for many reasons, one most notably is: We love what we do. This has become not only our jobs, not only our passion, but our way of life. Eurobia is like no other company out there. Host with us today and you'll experience unmatched hosting quality and support, and most of all, a warm welcome to the family.
We will bring you Professional, Affordable and Quality Web Hosting. We provide Shared Hosting, Reseller Hosting, Business Hosting, Virtual Private Servers, Dedicated Servers and many more solutions for individuals, families, organisations and businesses. As we are a pronounced web hosting company we include a free domain name registration/transfer with all of our web hosting plans. The domain name included with your hosting plan is yours to carry on forever.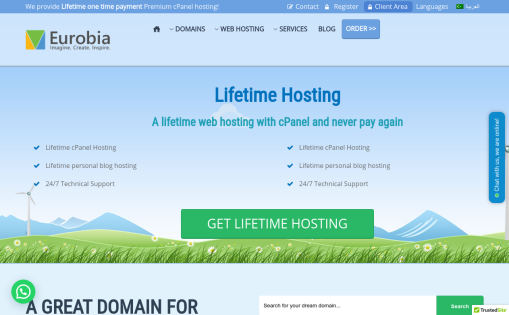 Shared Hosting starting at $19.99/mo
Domains: 1 Disk Space: Unlimited Bandwidth: Unlimited Control Panel: Yes Money-back Guarantee: 30 day
what is Lifetime Hosting ? Simply ... One payment ... and you're hosted for life. start from 19.99$ one hosted domain. Our lifetime cPanel hosting package offers all you need for your website without the recurring fees. including all of its features, at a single one-time payment. give try and start from 19.99$ . Most companies charge more for a single year of hosting. Give us a try and find out why more and more people are choosing Lifetime Host, for their hosting needs. Feel secure by Eurobia along with your websites, images, emails, personal websites and on-line business. we've got thousands of shoppers on our lifetime Hosting servers and our commitment is that the constant investment in hardware and infrastructure server upgrades which will make sure the best life Hosting packages for your on-line projects!
Reseller Hosting starting at $9.99/mo
Eurobia wants to help you provide the professional reseller hosting solution. To ensure that your hosting clients do not find out that you are a reseller of Eurobia, we use anonymous domain names for our reseller servers. What does this mean for you? As an example, rather than naming a server superman.Eurobia.com we would name it superman.somethinganonymous.com. After you purchase your package, you will get access to the reseller control panel, Web Host Manager. WHM gives you full management rights over your package and helps you provide your customers with their own control panels (cPanel) using which they manage their own websites. cPanel allows your customers to control sub-domains, email addresses, passwords and much more without requiring any support! Most plans also include WHMCS that simplifies Billing & Client Management. If you need any help, we're available 24/7/365 and happy to provide assistance.
VPS Hosting starting at $11.99/mo
VPS Hosting Plan 1 vCore 25GB Harddrive vSwap 512MB 512MB RAM Unmetered Bandwidth
Dedicated Servers starting at $95.00/mo
i3 Dedicated ServerPerfect dedicated hosting plan for beginners 3GHz - 1processor 2cores/2threads 8GB DDR3 1TB Up to 1 Gbit/s Bandwidth 10