Everdata Technologies Pvt. Ltd.
Address: 372, Shri Gopal Nagar, Gopalpura Bypass
Jaipur 302019
India
Phone:18001029696
Fax:N/A
EverData is a leading Indian cloud hosting and data center service provider that provides managed services to many global and national enterprises operating in India. EverData established Rajasthan's first privately owned Tier 3 level data center and launched the Hindi Cloud. Fully translated in Hindi, these cloud solutions provide data sovereignty to Indian businesses and organizations by enabling them to host and keep their mission critical data locally.
Established in 2006, EverData is a data center, managed service provider and IPV6 consulting company with a team of exceptional local engineers that are highly experienced in designing and deploying cloud solutions for modern businesses. EverData solutions include public and private cloud, the world's leading software in VPS and dedicated servers, email hosting, co-location, security solutions, disaster recovery and business continuity. The elaborate service portfolio caters to all types of hosting requirements.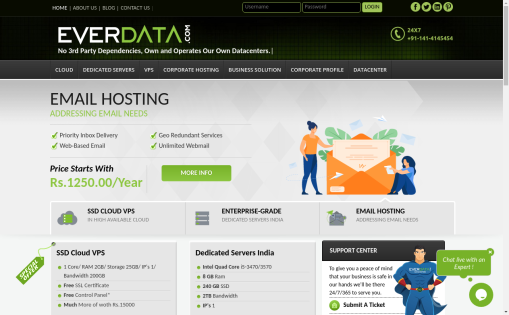 VPS Hosting starting at Rs399.00/mo
Starter 1 Core 15GB 1GB 200GB
Dedicated Servers starting at Rs2500.00/mo
Quad Core Core i5-3470/3570 3.20Ghz 2TB
Cloud Hosting starting at Rs649.00/mo
1 core 2GB 25GB 200GB
Colocation
FULL RACKS For businesses that need the hosting space and security that comes with a full server rack Colocation plan, Jaipur Data Center offers an affordable way. A full server rack is very much the same as renting rack units but instead of one or two single servers, either a half rack or a complete rack is available for lease. A full rack Colocation plan is the ideal choice for e-businesses or online retailers that have many servers in need of dedicated connections, high bandwidth, and a secure hosting facility. Those that have servers that need to be hosted in a secure environment can benefit from Jaipur Data Center's experience in providing quality hosting services to many brand name companies.